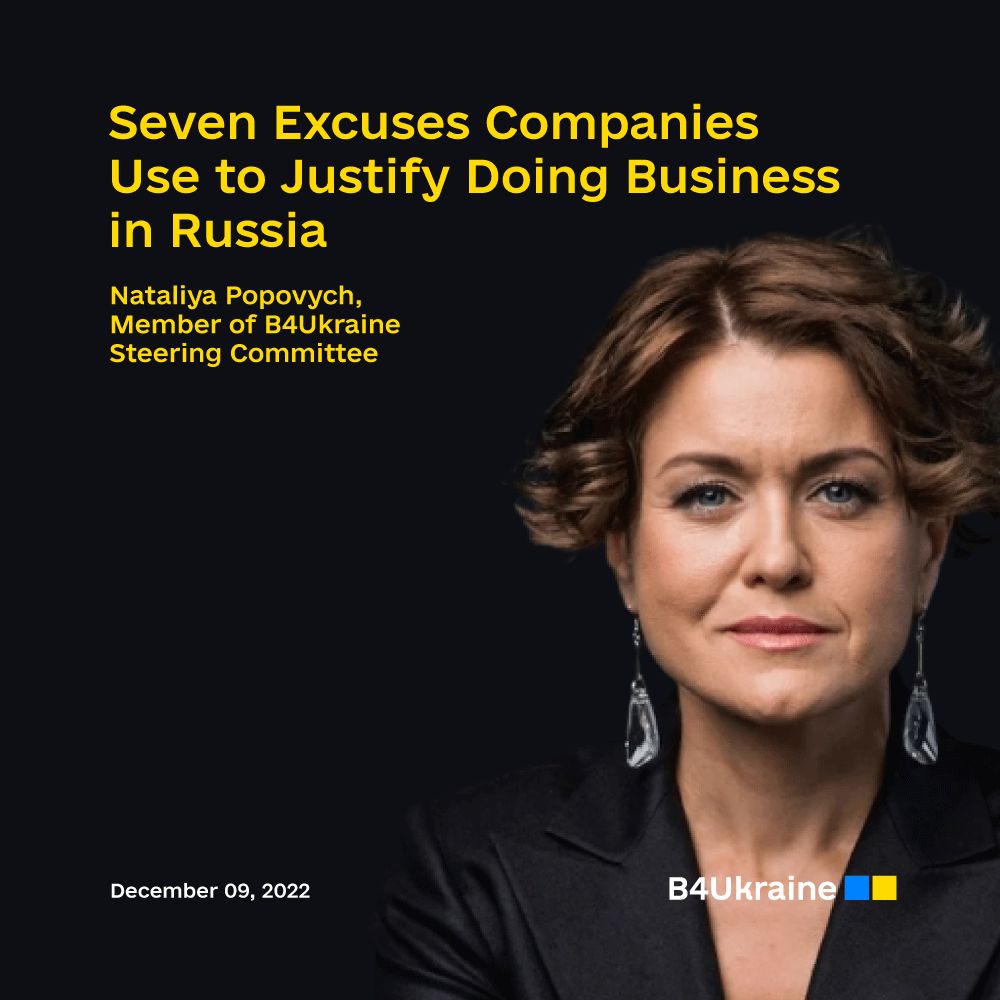 Highlights from the UN Forum on Business and Human Rights side event "From moral duty to legal obligation: Corporate behaviour and human rights in the context of invasion" organised by the Permanent Mission of Ukraine to the United Nations Office at Geneva, B4Ukraine, BHRRC and ISHR
Russia is deliberately plunging the population of Ukraine in extreme hardship by destroying Ukraine's civilian infrastructure, including power plants, schools, hospitals and museums.
More than 46,000 war crimes committed by Russia have been documented by the Office of Prosecutor General of Ukraine. This number grows by the day.
Due to the war, Ukraine's GDP will shrink by ≈32% in 2022, according to the National Bank of Ukraine.
Still, according to KSE Institute, 1,692 international companies remain in Russia, employing over 600,000 people and earning a combined revenue of more than 174 billion US dollars.
Germany is the unfortunate leader among countries whose businesses continue operating in Russia with 208 companies continuing their business as usual as Russia continues to destroy the rules-based international order.
In the course of B4Ukraine's attempts at establishing a dialogue with these companies and instilling the sense of urgency in their decision makers, we have encountered seven prevailing excuses used to justify the delays. Some of these are fascinatingly creative: if only this kind of resourcefulness was applied to actually pulling out of Russia, its terrorist regime would have much less spending power.
Excuse 1. We are a big employer, we have a duty to protect and provide job security to our Russian employees
In fact, with Putin's decree enforcing general mobilization in Russia, companies have no choice but to comply and assist with the conscription of their employees to serve in the Russian armed forces.
A case in point: an IT specialist for Raiffeisen Bank in Russia was drafted, hastily trained, sent to the front lines and killed just two weeks later. The bank failed to shield him, as well as others, from conscription.
According to media reports, the Knauf subsidiary in Russia even used a company van to drive 15 conscripted employees to the army recruitment centre to ensure they comply with the order to appear.
Indeed, Russian martial law, coupled with the mobilization decree, requires companies to facilitate conscription and to comply with government orders to provide information, equipment, buildings, land, means of transportation or any other resources deemed necessary to support Russia's war effort.
As a result, not only are companies unable to protect their employees but are themselves increasingly at risk to become complicit in Russia's war crimes.
Excuse 2. We are also providing aid to Ukraine or investing in Ukraine's reconstruction
Philanthropic initiatives aimed at helping Ukraine's civilian population recover from the deadly attacks or supporting refugees seeking shelter outside Ukraine are not at all commensurate with the profits these companies enjoy by operating in Russia and even with the amount of taxes they are playing to the Russian state.
For instance, Danish maker of insulation products Rockwool is the single largest taxpayer in four regions of Russia where it continues to employ 1200 people in its four factories. Last year, Rockwool made 240 million dollars in revenues in the Russian market — a number that dwarfs the company's declared commitment to provide between 13 and 27 million dollars to help Ukraine rebuild the city of Chernihiv that was nearly flattened by the Russian occupiers last spring.
Yes, support of Ukraine is a surefire way to win approval from stakeholders, but it is meaningless while companies continue to help finance the missiles that destroy human lives. In fact, our member SBWR discovered evidence that Rockwool has been selling their product to the Russian Ministry of Defence to be used in buildings and warships. Any amount that Rockwool spends on rebuilding what has been destroyed by the Russian military would be nothing but "blue-and-yellow-washing."
Excuse 3. We do not want to forgo our IP & assets in Russia
While the sentiment is easy to understand, the reality stands in the stark contrast to this kind of reasoning. Russia lacks the independent judiciary or even the basic tenet of inviolability of private property.
For example, the Russian airlines are refusing to return more than 400 planes and a slew of aircraft parts that they leased from Western companies, forcing the leasing companies to file $10 billion in insurance claims, according to data and research provider Cirium.
Entertainment One uk, the British arm of a Canadian company, lost its copyright battle against a Russian rival using a fake Peppa Pig, one of its trademarked cartoon characters. According to the company's lawyer in Russia, the Russian courts ruled that granting such a demand was "an abuse of right" in light of the British sanctions against Russia.
The farther Russia distances itself from the rule of law, the higher risk international companies face to lose their assets in the country.
Excuse 4. Others aren't leaving either
Companies cite competitive risks in their sectors, however, these fears tend to be baseless. In fact, recent history proves that competitors are much likely to follow suit when the market leader pulls out of the country, just as it happened with the beer companies in the first weeks of Russia's full-scale invasion of Ukraine.
Beer companies were among the first to pull out of the market, leaving only one major player – SunInbev – behind.
Excuse 5. When WWII ended, business in Germany thrived…so we need to defend our market share in a market that will grow eventually
History lessons are worth learning. Germany — namely, West Germany thrived indeed, but not before capitulation, Nuremberg trials, payment of enormous reparations, the denazification, and the reestablishment of the rule of law, which, in turn, enabled investments and subsequent economic growth in other markets.
In fact, Russian revenue constitutes a comparatively small share of revenue for global corporations, and can be replaced via ethical business growth. Recent KSE analysis shows companies that pulled out of Russia to demonstrate faster revenue growth compared to remainers. By Q3 2022, the quarter-on-quarter yearly revenues of companies that have decided to leave (+25.6%) or have already left Russia (+20.6%) have increased more compared to those that are staying (+16%) or waiting (+15.5%).
Take the French bank Société Générale, one of the most exposed in Russia, which took a loss of €3.3 billion upon exiting the Russian market, but still managed to outperform its rivals. In a different sector, children's favorite Lego pulled out of Russia but grew consumer sales by 13% and its revenue by 17%.
Excuse 6. We stay to provide essential goods to the Russian people
Several companies remaining in the Russian market claim the "essentiality" of the goods or services they provide. Indeed, the availability of certain goods is vital for the health, safety, and wellbeing of the public. However, this claim is often used to shield sales of any consumer goods that are essential only to their manufacturers' profits. For example, Unilever would find it difficult to back its claim that ice cream is an essential good, or Mondelez, chocolates and cookies.
B4Ukraine developed a questionnaire companies should be using to determine whether their products do in fact meet the criteria for essentiality.
Excuse 7. The management has a fiduciary responsibility to maximize shareholder value
According to KSE Institute analysts, "…whether a company operates in Russia or has pulled out, has no discernible impact on its bottom line." Moreover, working in a non-market economy (recently designated as such by the US Department of Commerce) ruled by the state that sponsors terrorism (declared by the European Parliament and a number of national governments) erodes shareholder value so much more than any lost revenues from a market that is destined to shrink.
Multinational corporations have been among the greatest beneficiaries of that international rule-based order since its creation amidst the ashes of WWII. Yet at times they appear to take its existence for granted when their trade and investment, innovation and entrepreneurship, markets and customers, all depend on its continuity and vitality. Business has a fundamental stake in the international order as the framework for stability, prosperity, open societies, and markets.
According to the Edelman Trust Barometer Special Report, the price companies pay for staying in Russia is their reputation: six out of ten people want businesses to punish countries that violate human rights and international law, 38% lost trust in companies for carrying on doing business in Russia, and half have started or stopped buying companies' goods and services based on how they responded to Russia's invasion of Ukraine.
Consumers and other stakeholders want companies to take a stronger stance in the issue of Russia's invasion of Ukraine. In addition to facing material risks in Russia, companies stand to lose reputation and trust, neither of which can be easily regained.
The words of Sir Geoffrey Chandler, former Shell executive and founder of the Amnesty International UK Business and Human Rights Group sum it up best: "To hell with the business case, it's about doing the right thing."
Nataliya Popovych is the Founder & President of One Philosophy & WeAreUkraine and a member of B4Ukraine Steering Committee
Watch the full discussion at From moral duty to legal obligation: Corporate behaviour and human rights in the context of invasion