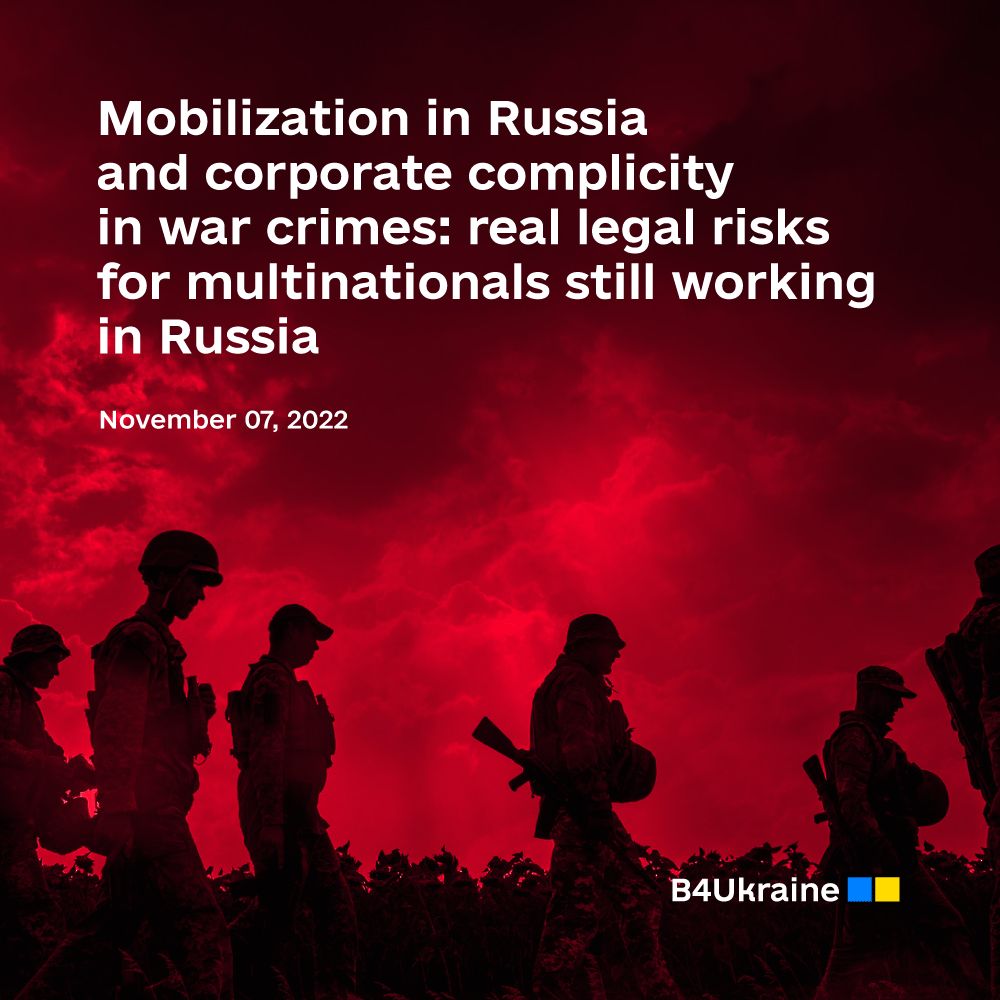 Russia's military invasion and occupation of Ukraine demonstrates the nexus of human rights and material risks faced by companies with operations or business relationships in conflict-affected areas. In response to the February 2022 invasion, more than 1,000 international companies have curtailed operations in Russia. Yet many companies have remained, attempting to balance their continuing operations with an expanding universe of legal, operational, and financial risks.
In July, Russian President Vladimir Putin signed a new law allowing the government to impose special economic measures to support "counter-terrorism and other operations outside of Russia." According to this law, should the Russian government decide to do so, it may force any company to enter into a contract to provide goods and services for Russian military engagements abroad. Moreover, Putin's declaration of martial law and establishment of a Coordination Council in occupied Ukrainian regions "could mean streamlining the federal and private sector resources towards the war efforts in Ukraine."
The legal risks facing companies operating in Russia increased significantly on September 21 when President Putin announced a series of amendments to a longstanding federal law "on mobilization training and mobilization in the Russian Federation". This "partial mobilization" decree marks a new red line for corporate complicity in violations of international law and material risks for companies and their shareholders. Along with Putin's other legislative measures, the Russian military's commission of war crimes, and the international community's response to the invasion, the decree has made Russia one of the world's most hostile markets for multinational companies.
The mobilization decree, executed through Article 9 of Federal Law No. 31-FZ, creates obligations for Russian citizens and Russia-based organizations – including more than 1,500 international companies operating in Russia. The law establishes the forced conscription of individuals eligible to serve in the military and requires companies to facilitate conscription through military registration of and delivery of summons to eligible staff. In addition, the law mandates that all organizations comply with government orders to provide information, equipment, buildings, communications, land plots, transport, and other types of material support to the war effort. Companies are prohibited from refusing mobilization orders or terminating government contracts to avoid carrying out conscription- or resource-related tasks. Violations of these orders can result in civil fines, criminal penalties against company executives (including a prison term of up to 8 years under Article 201.2 of the Criminal Code), and forced performance of contractual obligations via judicial mechanisms.
The impacts of the decree on companies are already evident. On October 13, a Russian employee of Raiffeisen Bank was killed after being conscripted under the decree, despite the company seeking an exemption. Reports also show that some companies are neither seeking exemptions nor assisting employees. Active or passive compliance with conscription orders endangers employees and casts doubt on corporate claims that they maintain operations in Russia for the benefit of their employees.
While Russian Defense Minister Sergei Shoigu announced on October 27 that the mobilization to send reinforcements to fight in Ukraine is complete, no presidential decree to officially end mobilization has been issued. Hence, all companies in Russia remain at acute risk of their employees being conscripted and mobilized as the war continues. In the event the decree is rescinded, the Russian government will still have legal grounds to oblige businesses to provide services and goods for its military efforts.
As Russian attacks on Ukrainian civilians and critical infrastructure have continued to escalate and President Putin announced the illegal annexation of four Ukrainian regions in September, the international community has responded in kind with sanctions targeting key components in Russian weapons systems and shell companies that have assisted in sanctions evasion. These actions build on the already unprecedented array of economic sanctions, export controls, and import regimes imposed by numerous governments. Taken collectively, they have created an environment of such severe regulatory risk that many companies have terminated contracts, limited operations, and/or withdrawn from the market entirely with significant losses.
For those companies that continue operations and/or relationships in Russia, their legal risks are compounding. A company may be complicit in, and its executives prosecuted for, a war crime under Article 25 of the International Criminal Court's Rome Statute as long as it had knowledge of the act, even if it did not intend for it to be carried out. In light of the mobilization order, companies should be aware that their personnel and material resources could be used to support the invasion of Ukraine and associated war crimes. French and Ukrainian NGOs have already filed a complaint against TotalEnergies under French law, accusing the oil company of supplying jet fuel for Russian war planes carrying out military attacks against civilians in Ukraine, including the bombing of a theater in Mariupol that killed 600. The case, along with others in Syria and Sudan, demonstrates the increasing legal risks associated with companies contributing to violations of international law. Liability is further heightened by the growing number of jurisdictions mandating that companies undertake human rights and environmental due diligence, from the French Duty of Vigilance Law and the adoption in 2021 of new laws in Germany and Norway to the publication of a proposal for an EU-wide law in 2022.
The companies that remain also face direct and indirect operational and financial risks, including the potential expropriation and seizure of assets, loss of suppliers, partnerships, and customers due to supply chain disruptions, inability to retain skilled employees, reputational harm, and difficulty delivering goods/services. Damage to the Caspian Pipeline and Nord Stream I pipeline, believed by many experts to be conflict-related, has caused disruptions in companies' export of oil and natural gas out of Russia. Under the partial mobilization decree, companies could also lose access to employees or be forced to hand over buildings, production capacity, or transportation to the Russian state.
Because of the legislative action taken by Russia, companies that remain in Russia must accept that they are crossing a new red line in corporate complicity and material risk. By requiring corporate support for the illegal invasion and occupation of Ukraine, Russia's mobilization decree makes it nearly impossible for companies to reconcile their obligations under international law, the United Nations Guiding Principles on Business and Human Rights, and Western sanctions regimes with Russian law. Combined with the regulatory and legal risks arising from international responses to the invasion, Russia now poses a business environment of human rights and material risks so severe that they cannot be responsibly managed by foreign companies, whatever their stated intentions.
Threats to profits and portfolios, but most importantly to the Ukrainian people, lead to one inevitable conclusion for businesses – to end all operations and business relationships with the Russian government or risk being complicit in its crimes.