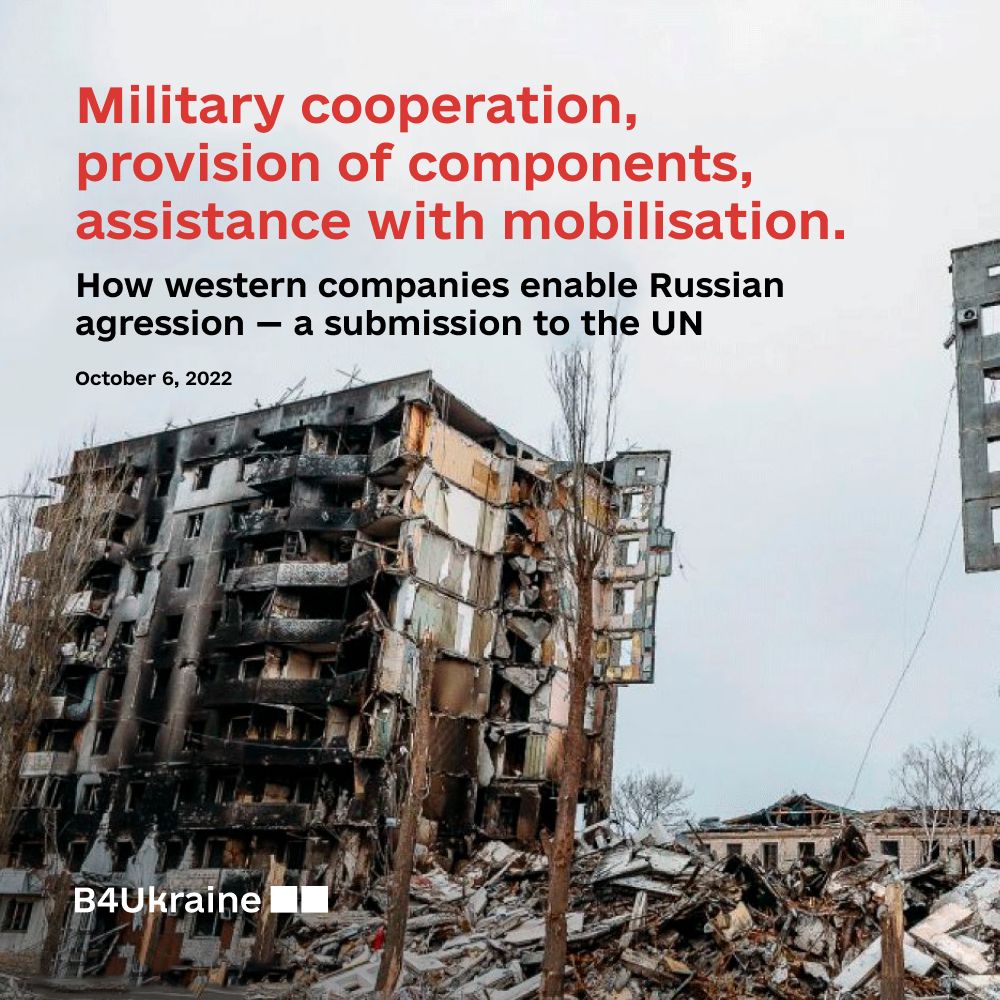 In response to the call for submissions under UN HRC resolution 49/1, Statewatch NGO, the Economic Security Council of Ukraine, and the B4Ukraine coalition made a submission to the UN Independent International Commission of Inquiry on Ukraine on the complicity of multinational corporations in crimes of aggression and war crimes committed by the Russian state in Ukraine.
The submitted paper draws attention to Western companies' providing components and jet fuel to the Russian military and the supply of heat exchangers for at least eight Russian military vessels, as well as the multinationals' new role in the Kremlin's mobilization and their obligations to contribute to the war effort.
The prepared piece mentions specific American, Danish, French and German companies who are alleged to be complicit in Russian crimes, such as Texas Instruments Inc, Advanced Micro Devices Inc, Cypress, Semiconductor (owned by Infineon AG), TotalEnergies, and Danfoss.
It is available in full here.
Each highlighted problem aims to bring to light corporate actions that contribute to human rights violations and enable Russian aggression.
To add to that, the prepared piece provides five critical recommendations to counter these and similar violations:
Highlight the heightened due diligence obligations throughout all aspects of business operations.
Make a call for launching a process of investigation and remediation through compensation to victims and cooperation with authorities.
Strengthen export controls, manage to shut down Russia's clandestine procurement networks, and prevent sensitive components from being manufactured in states that support Russia.
Mentioned companies should be further investigated to establish corporate complicity in the crimes committed in Ukraine.
Broader sectors of businesses should be advised to leave the Russian market at once to avoid their active participation in the war effort as obliged under Russian law.
We continue to call on all businesses that still operate in Russia on a full or limited scale to withdraw immediately until the sovereignty and territorial integrity of Ukraine are restored. Even if companies are not involved in military shipments and provisions, after the Russian government passed a decision to start mobilization, every organization working in Russia is obliged to assist Kremlin with conscripting soldiers, making them directly involved in the war. Leave Russia to protect your reputation and not contribute to the war.