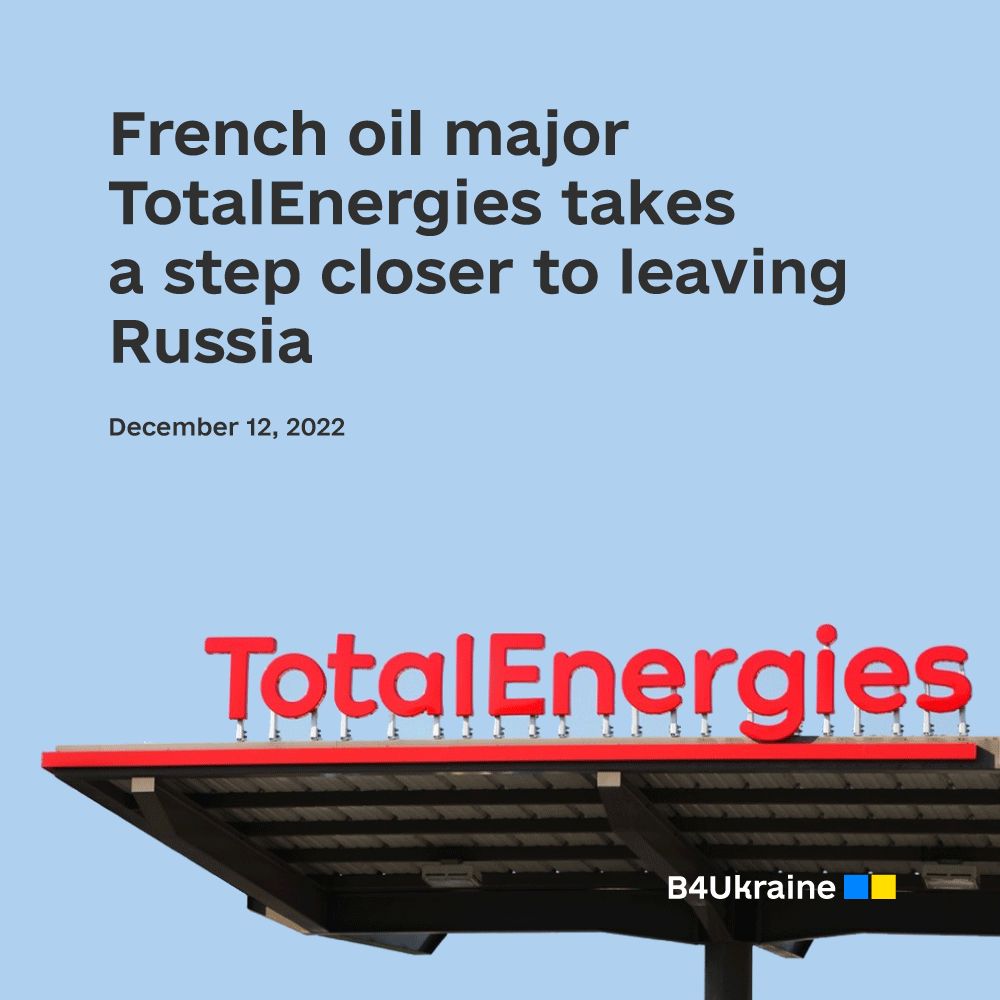 French energy giant TotalEnergies, one of the largest foreign remainers in Russia, said it would take a $3.7 billion write-off on its stake in Russian gas producer Novatek and withdraw its two members from the company's board as a result of EU sanctions against Moscow.
TotalEnergies said in a statement on Friday that EU sanctions against Russia meant its two directors on Novatek's board were abstaining from voting in board meetings, in particular on financial matters, and therefore couldn't fully carry out their duties any longer.
It said it would also "no longer equity account for its 19.4% stake in Novatek", which will result in an impairment of around $3.7 billion in the fourth quarter.
Despite public pressure, TotalEnergies has held on to several investments in Russia after the country invaded Ukraine on Feb. 24 and has faced international sanctions due to this.
"Perfect timing for TotalEnergies to announce that they are finally leaving Russia. Just a few days before the Paris international conference on resilience and reconstruction of Ukraine where they participate", says president of NGO "Stand With Ukraine" Edward Mayor.
Except for the stake in Novatek, the oil major still owns minority holdings in Russian liquefied natural gas (LNG) projects Yamal LNG and Arctic LNG.
"The move is not enough to make sure that TotalEnergies were seeking to act as a responsible company. It's time to do the right thing and exit Russia totally", says Mayor.
In October 2022, the France-based Darwin Climax Coalition and Ukrainian group Razom We Stand filed a complaint to the national anti-terrorist prosecutor accusing TotalEnergies of "complicity in war crimes" for allegedly helping fuel Russian planes that have bombed Ukraine.
The two NGOs accuse the French energy giant of exploiting a gas field used to manufacture kerosene used by Russian planes in their bombings in Ukraine, particularly in the March 16, 2022, strike on a Mariupol theatre sheltering civilians, which killed around 600, according to French daily Le Monde. TotalEnergies rejected the accusations, calling them "outrageous and defamatory."
The complaint came after the Global Witness investigation regarding Total. The investigation showed how gas condensate from Total's Termokarstovoye field was transported across Russia for refining to Omsk before being shipped as jet fuel to Russian Air Force bases near Ukraine, including bases for Sukhoi Su-34 fighter-bombers. The pilots of these warplanes have been accused of indiscriminate bombing of civilian areas, including a strike on Chernihiv on March 3, 2022, which reportedly killed 47 civilians. Total denies all accusations, but days after the investigation was published it announced the company had sold its 49% stake in TerNefteGaz.