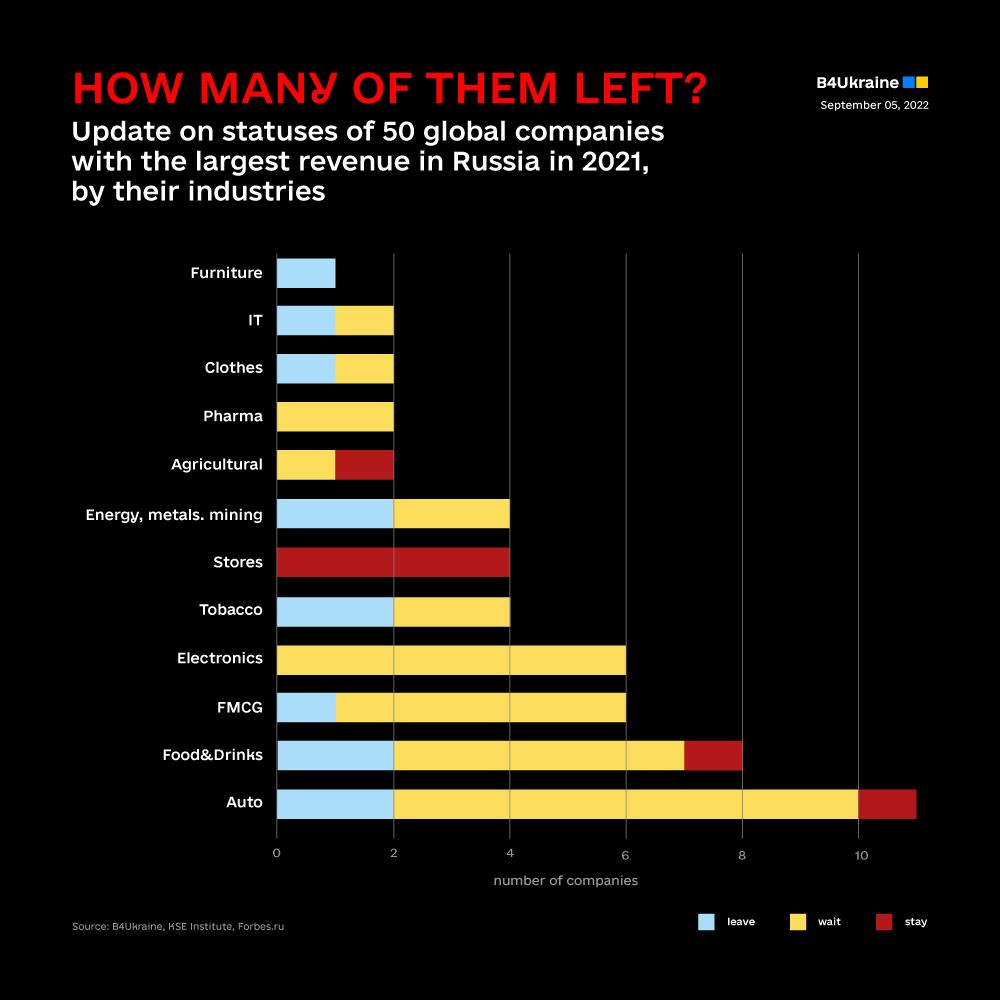 This week marks the 200th day of Russia's full-scale brutal war against Ukraine. Over 1600 international companies keep doing business as usual or operating at a smaller scale in Russia. But not all companies can be viewed as equal. The largest taxpayers are one of those that matter the most. By paying taxes to Russia's federal budget, they indirectly help the Kremlin fund the war on Ukraine – pay soldiers' salaries, buy military equipment and fuel, and fund ammo and weapons production. Their withdrawal from Russia would be the hardest hit on its economy and Kremlin's ability to wage war against Ukraine.
So, what are the most significant corporate sponsors of the war? Russia is not transparent about its biggest taxpayers. Nevertheless, finding international companies with the highest revenues in Russia is still possible. Naturally, these companies would be the ones to pay the largest amounts of taxes to the Russian budget, thus, fueling the war machine.
Out of the 50 international companies that earned the highest revenue on the Russian market in 2021, according to Forbes Russia, only 12 decided to leave it after the beginning of the full-scale invasion of Ukraine. Seven more opted to continue business as usual, and 31 have cut some operations but remained in Russia, buying some time. Last year, these 50 biggest international go-getters received revenue of 8.8 trillion Russian rubles or around $119 billion (with the 2021 average weighted exchange rate of 73.65 rubles per US dollar).
Companies from the most lucrative industries appear less inclined to pull out from Russia. This is the case for the highest earning multinationals from the automotive sector (with total revenue of $36 billion in Russia in 2021), food and drinks ($15 billion), tobacco companies ($14 billion), retail ($14 billion), and electronics ($13 billion). See the complete list here.
One-fifth of Russia's 50 biggest revenue earners with international roots work in the automotive industry. Last year, these companies received $36 billion in revenue in total in Russia. Only two of them – Renault and Volkswagen – can be considered as those that left the market or are on the way to doing so. One car manufacturer from South Korea – KIA – seems to be digging in as it didn't make any clear statement on its plans regarding continuing work in Russia and conducts business as usual for now.
Eight other car manufacturers, including Toyota, Mercedes-Benz, BMW, Hyundai, Komatsu, Nissan, Mitsubishi, and Volvo, are halting shipments to Russia and pausing production. However, none of them has said that the pause is permanent; if anything, companies provide vague statements on possible restarting dates of their factories in Russia and give no promises to leave the country entirely and sell their assets there.
Eight of the 50 top multinational earners produce food and drinks. In 2021, they received $15 billion in revenue in Russia. So far, only two of these companies opted to leave Russia for good – fast-food chain McDonald's and beer producer Carlsberg.
However, six keep doing business in Russia in different forms and using various justifications. PepsiCo, Coca-Cola, Nestle, Mars, and Danone have limited their operations but continue to work in Russia.
One of the industry's top earners is even expanding its presence in Russia. A beer producer AB InBev Efes, a joint venture of Belgian AB InBev and Turkish Efes with 30% of the Russian beer market, recently decided to increase the range of the beer brands it makes in Russia, despite the backlash it caused for AB InBev and its most famous brand – Leffe.
Five electronic device manufacturers are among the top highest-earning multinationals in Russia: Apple, Samsung, LG Electronics, Huawei, and Bosch. Last year their total revenue in Russia was $13 billion. None of them has withdrawn from Russia entirely yet. But none has also declared the decision to stay.
All five companies have suspended some operations, including importing goods to Russia, while keeping others. They continue to provide services on a full or limited scale, hire employees and keep offices open, meaning they pay taxes from salaries to the Russian budget. Furthermore, some companies, like Samsung or Bosch, operate factories in Russia and have never announced plans to sell these facilities.
All four top-earning foreign retail chains – Metro AG, Globus, Auchan, and Leroy Merlin – continue business as usual in Russia. Last year their revenue in the country amounted to $14 billion. While German retailer Globus has not explained its decision to stay in Russia, the rest of the companies mainly justify their presence in Russia by taking care of their Russian employees.
Metro AG explained its decision with the responsibility for the employees and people buying food from Metro. This excuse ignores that, first, food is not the only thing Metro sells. Second, locals are more prone to purchase food from Russian food supermarkets with the most extensive coverage of cities in the country than from hypermarkets like Metro. Auchan also provided a similar explanation. French Leroy Merlin, owned by the same family that owns Auchan, also appealed to excuse that their employees in Russia "did nothing wrong," while at the same time averting their eyes from the fact that one of the store employees in Ukraine was killed in March in Russian attack on Kyiv, as well as cutting off Ukrainian office from corporate communications to shush down the criticism.
Tobacco companies are major taxpayers in each country because not only do they pay corporate and payroll taxes like other companies, but the state also receives excise tax from each pack sold. Therefore, the share of taxes in the price of tobacco products is higher than for other products.
In 2021, the four international tobacco giants received $14 billion in revenue in Russia. According to VoxUkraine, in 2020 (the latest data available for all the companies), these four tobacco manufacturers paid $7.8 billion into the Russian budget, i.e., 12.6% of Russia's entire military budget ($61.7 billion) for the same year. This money would buy Russia 22% of its aircraft, 51% of its helicopters, 57% of its APV, or 59% of its tanks.
So far, only two companies – British American Tobacco and Imperial Brands – have opted to leave the aggressor country. Two others – Philip Morris and Japan Tobacco International – have suspended some operations but are still operating in the country. Coincidently, the two remaining companies received 2.5 times more revenues in Russia than the two companies that withdrew. These are also the only global businesses whose contributions to Russia's federal budget are calculated not as millions but billions of dollars. If they leave Russia for good, this will be a massive blow to the Russian war machine.