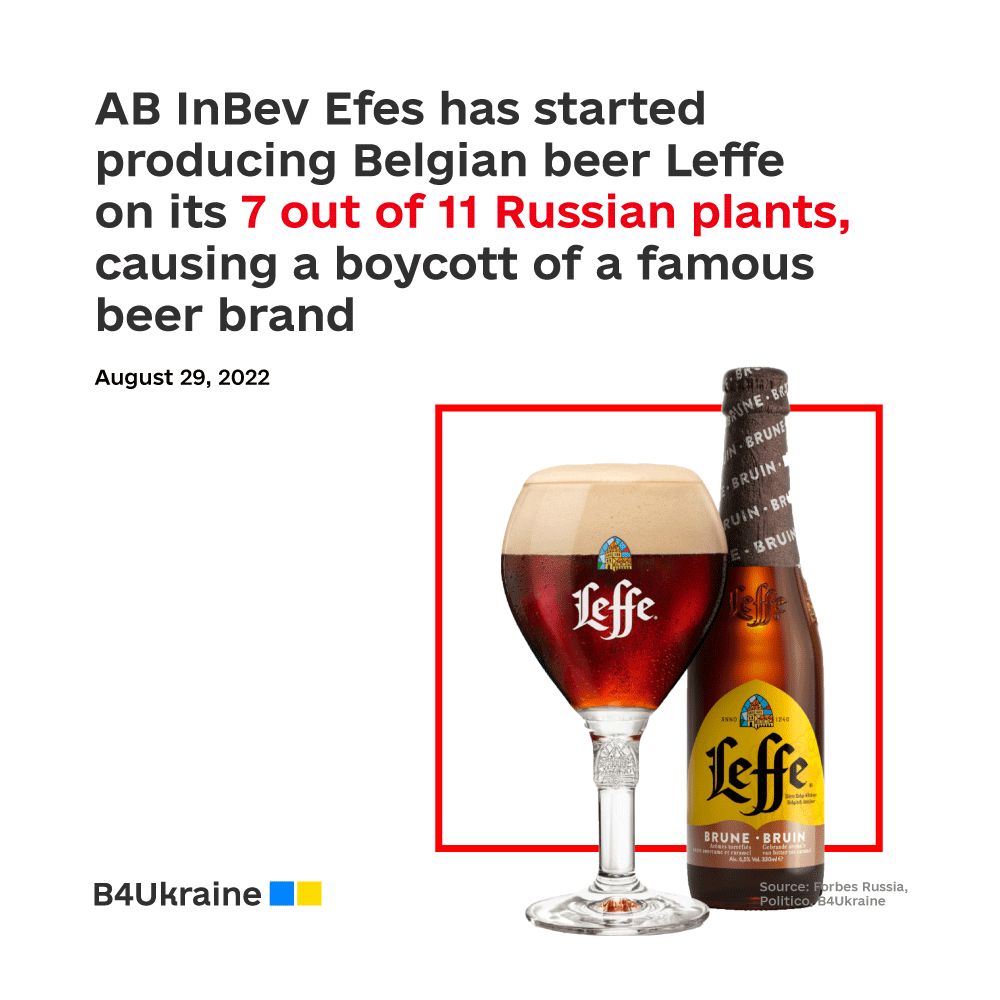 Shortly after the world marked the sixth month of Russia's full-scale war against Ukraine, InBev Efes shocked the world with the news that it would now produce Belgian beer Leffe in Russia. The decision led to backlash and calls for the boycott of the famous beer brand, Politico reported. However, there is a lesson in this story for every foreign business that didn't pull out of the country in time, even if present in Russia only in the form of a joint venture. It goes like this: working in Russia, however small your presence is, will harm your company's reputation.
AB InBev Efes is a joint project of Turkish Anadolu Efes and Belgian Anheuser-Busch InBev, with the majority controlled by Andalou Efes. The joint venture is the largest beer producer in Russia, holding 30% of the local beer market. It's been four months since AB InBev said it would dispose of its holding in the Russian venture, adding that it's already in "active discussions" with partner Anadolu Efes about buying the stake. However, the plans have never materialized.
Now, the Belgian company has to share with its Turkish partner the responsibility and reputational damage of staying in Russia and even launching the production of beer Leffe there. The decision to localize the production of the famous brand in Russia came because of logistic complications and was made by AB Inbev Efes, and it is Anadolu Efes who is operationally in control of the day-to-day management of the joint venture. In fact, at the beginning of August the company announced that not only Leffe but also Spaten and Franziskaner beer brands are to be produced in Russia. InBev Efes has 11 plants in Russia, seven of which have started producing Leffe beer now.
Meanwhile, Turkish companies' decisions to expand their presence in Russia are nothing new. For example, Turkey's Fiba Retail is in talks to become a franchise partner for Spanish chain Mango's Russia stores, and Flo Shoes reported in May that it was in talks to buy more than 100 stores owned by fitness brand Reebok in Russia.
So, another lesson that a multinational company can take from the AB InBev's story is: beware of your partners - even a joint venture in Russia can be dangerous for a company's reputation, so it's never too early to pull out from such a venture and leave Russia.