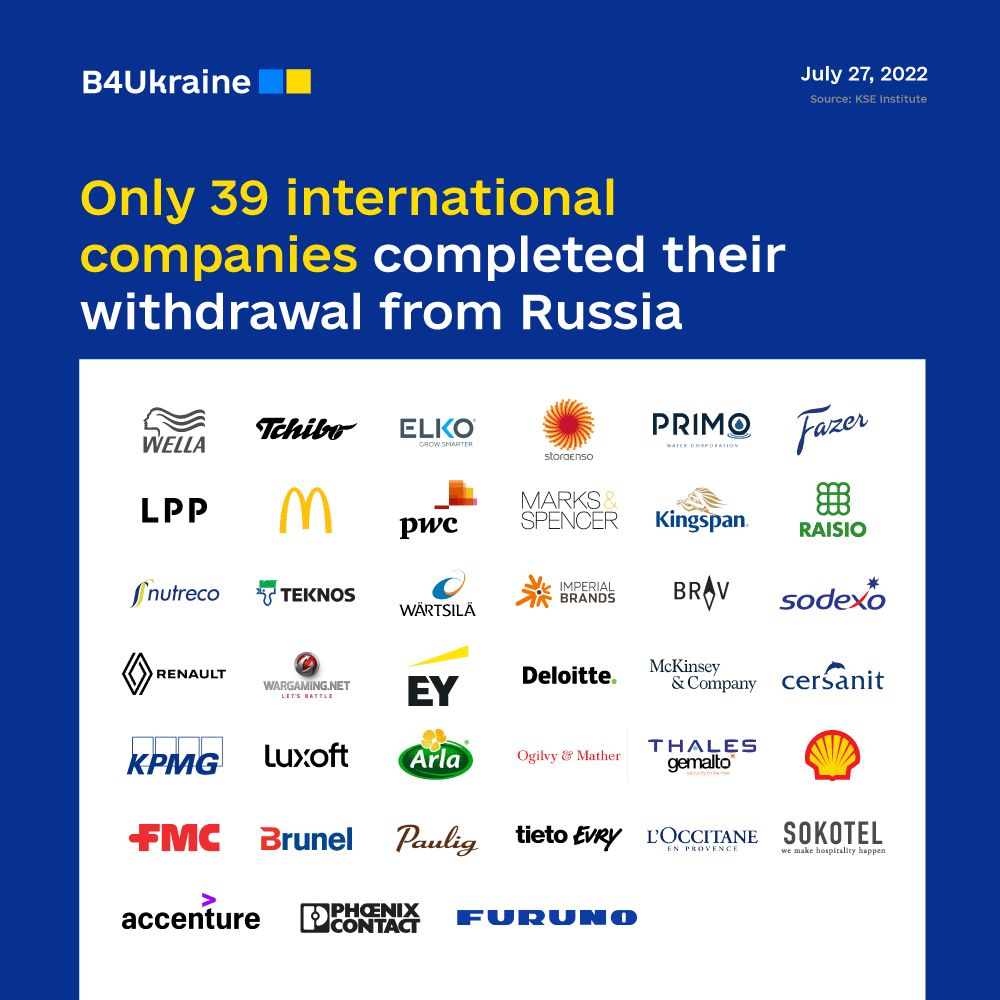 While over 400 companies have announced their plans to leave the Russian market, only 39 companies completed their withdrawal from Russia, according to the KSE Institute. To exit, companies give up their assets for free, sell them at a considerable discount, and transfer them to the companies' management.
Altogether, those 39 companies used to have 187,000 personnel, $16.8 billion in annual revenue, and $6.5 billion in capital investments in Russia. By leaving the Russian market in response to its unprovoked full-scale war against Ukraine, the companies had to make massive write-offs.
Among them are McDonald's in public catering, Societe Generale in the banking sector, and Renault in the automotive industry. In March 2022, McDonald's suspended operations in Russia in response to the full-scale invasion. In May, the company sold its chain of 850 restaurants to its franchisees. The fast food chain has written off $1.2 billion in losses due to leaving Russia. In April 2022, Societe Generale sold Rosbank to Volodymyr Potanin's Interros. The group's net loss amounted to 3.1 billion euros.
The sanctions played an important role in the companies' decisions to pull out from the Russian market. In particular, the sanctions significantly impacted the automotive industry – most car factories were forced to stop. However, most manufacturers remain in Russia and pay their employees. Only Renault transferred its share of the carmaker Avtovaz to an auto research institute for free.
The sanctions also contributed to the exit of the companies that come from professional services, particularly consulting, accounting, and advertising (except for legal services). According to the KSE Institute, companies that left include the Big Four auditing companies Deloitte, EY, KPMG, PwC, the law firm McKinsey, advertising companies Ogilvy & Mather, GroupM, etc. For these companies, the most common strategy is to set the Russian business as an independent entity that has no connection to the previous owner and is no longer able to use the company name.
A large share of companies that exited Russia belongs to the FMCG sector, including ten manufacturers of food products, beverages, alcoholic beverages and tobacco, two manufacturers of cosmetics, and a manufacturer of packaging. In particular, Arla Foods, Nutreco, Sodexo, Raisio, Hortex, Primo Water, Fazer, Paulig, Tchibo, and Imperial Brands left the market. Three clothing manufacturers, LPP, Marks & Spencer, and Brav, also exited the market.
All in all, these four dozen pioneers set an example of a decisive corporate response in the face of the unlawful war waged by Russia on its neighbor country. Since they constitute only 10% of over 400 companies that have announced their plans to leave the Russian market, more business exits are expected to follow. Otherwise, in each case of an announcement remaining in a form of pure declared intention with no further action taken, it will signal a company's inability to fulfill its commitments, even the publicly made ones.