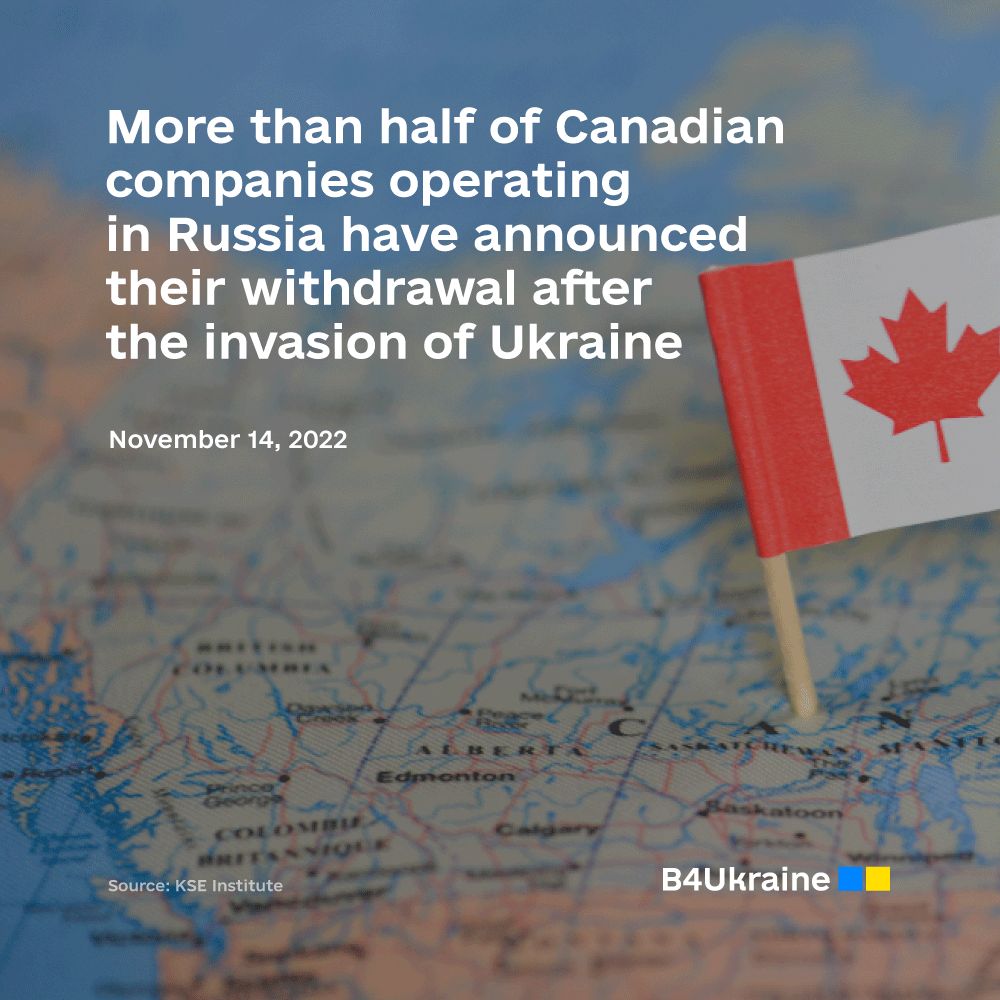 Canada, a country with a large and active Ukrainian diaspora of 1.2 million people, has the lowest business representation in Russia among G7 countries. Moscow sees Canada as one of the leaders of the "anti-Russian Crusade," thanks to Ottawa's strong support of democratic values and Ukraine in its fight for survival.
After Russia's full-scale invasion of Ukraine, more than 50% of Canadian companies have reduced, suspended, or ceased operations in Russia. Two of them – 6% of 33 companies observed – have already wholly exited the market by selling their shares, according to KSE Institute.
Out of 33 companies in the KSE database, only 24% of Canadian companies stay in Russia, while 18% somewhat limited their activities.
In 2021, 33 Canadian companies provided jobs for ~2,500 people in Russia, those companies generated $443 mn in annual revenue and had $195 mn in capital and $359 mn in assets.
Canadian companies operating in the Energy, oil, and gas industry have been the most dependent on Russia, with a revenue share of more than 10%. Other industries with revenue concentration of $100+ mn/year are Automotive, Consulting & Law, Hospitality & Real Estate, Metals and Mining.
The two corporations that showed a clean break from the country are gold and silver mining company Kinross Gold and a french fry giant McCain Foods. While outerwear manufacturer Canada Goose, oil and natural gas services company PHX Energy Services, alcoholic beverages retailer and distributor LCBO, aircraft manufacturer Bombardier, and data processing and analytics company EarthDaily are among those leaving.
For example, Calfrac Well Services – one of the world's largest fracking companies – is staying in Western Siberia where it conducts extraction services for Russia's largest oil producer. The Canadian operator of the Four Seasons chain of luxury hotels has suspended direct management of hotels in Russia, but the hotels continue to accept customers.
It is worth noting that more than 100 Canadian business leaders have pledged to sell their own Russian investment assets and are urging other investors to do the same. The B4Ukraine coalition shares their stance and calls on all businesses that still work in Russia to take a closer look at the example of Canadian companies and stop doing business with and in the state, which has already begun to be recognized in the world as a state that supports terrorism and commits genocide. End all operations and business relationships in Russia or risk being complicit in its crimes.