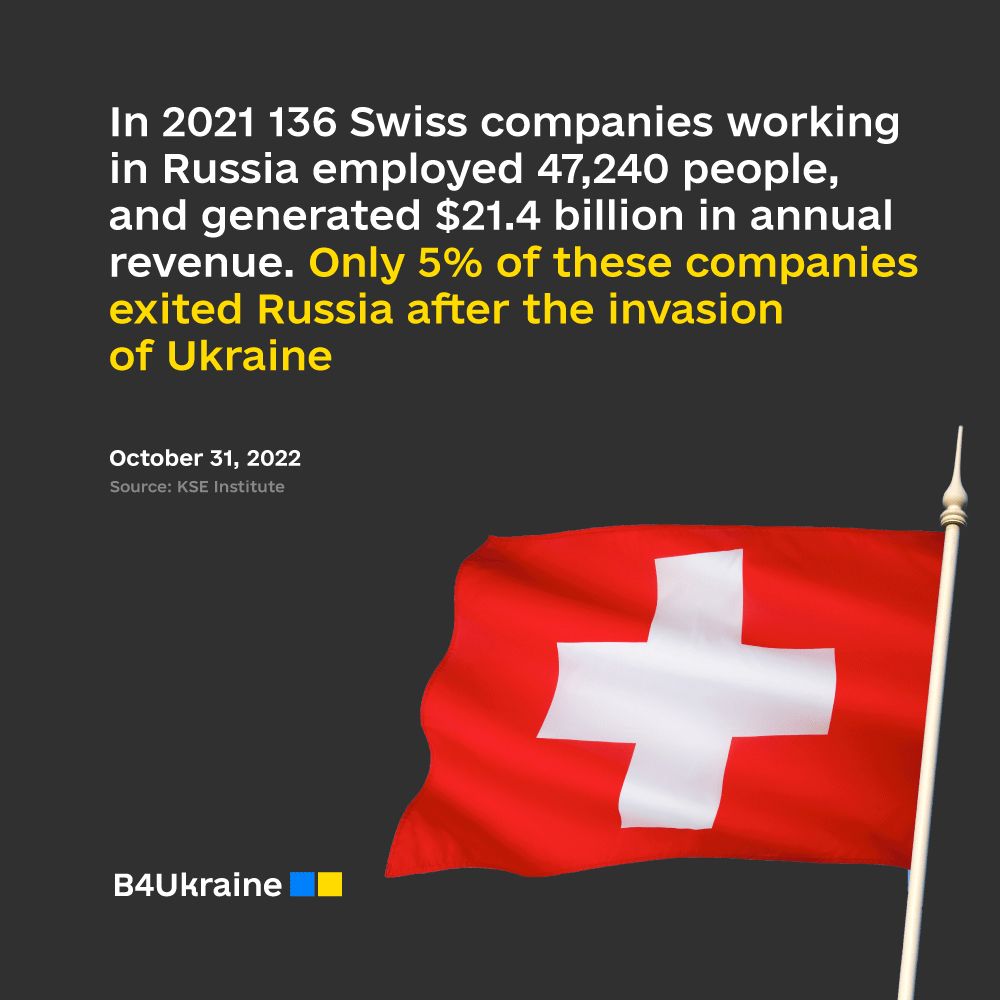 In the long range of countries, whose involvement in Russian market was highlighted so far, Switzerland is not as involved as some other European countries. However, the country facilitates the entry of Russian goods into the European market and was treated as a kind of "financial haven" for the trade operations of many traders who have legal entities or representative offices in this country.
The structure of Russian exports to Switzerland mainly consists of energy resources, precious metals and stones. Machines, equipment and vehicles, products of the pharmaceutical, chemical industry, foodstuffs, metals and their products are imported from Switzerland to Russia. The most "dependent" on Russia in terms of revenue share (more than 10%) in this country are Swiss companies in 3 industries: Alcohol&Tobacco, Finance and payments and IT.
According to data collected by the KSE Institute, in 2021 136 Swiss companies provided jobs for 47,240 people in Russia, and generated $21.4 billion in annual revenue.
After the invasion of Ukraine, only seven companies (5% of 136 companies observed) have completely exited Russia by selling their shares. However, 58 companies are currently on their way out of the country (43% of Swiss companies working in Russia - the share is on pare with Denmark, Spain and Norway). 71 Swiss company decided to continue operate in Russia on a full or a limited scale. These include some big names like Coca-Cola HBC AG, JTI, Credit Suisse, UBS, which declared they will limit their activities but continue to work in the country.
While Switzerland is definitely not on the list of countries whose companies at large prefer to do business as usual with Russia after the invasion, more still can be done to increase pressure on Russia in terms of its financial capabilities.
The B4Ukraine coalition calls on these businesses to rethink their strategy and increse efforts regarding leaving Russia to cut it off from the sources of funding used to wage war in Ukraine.