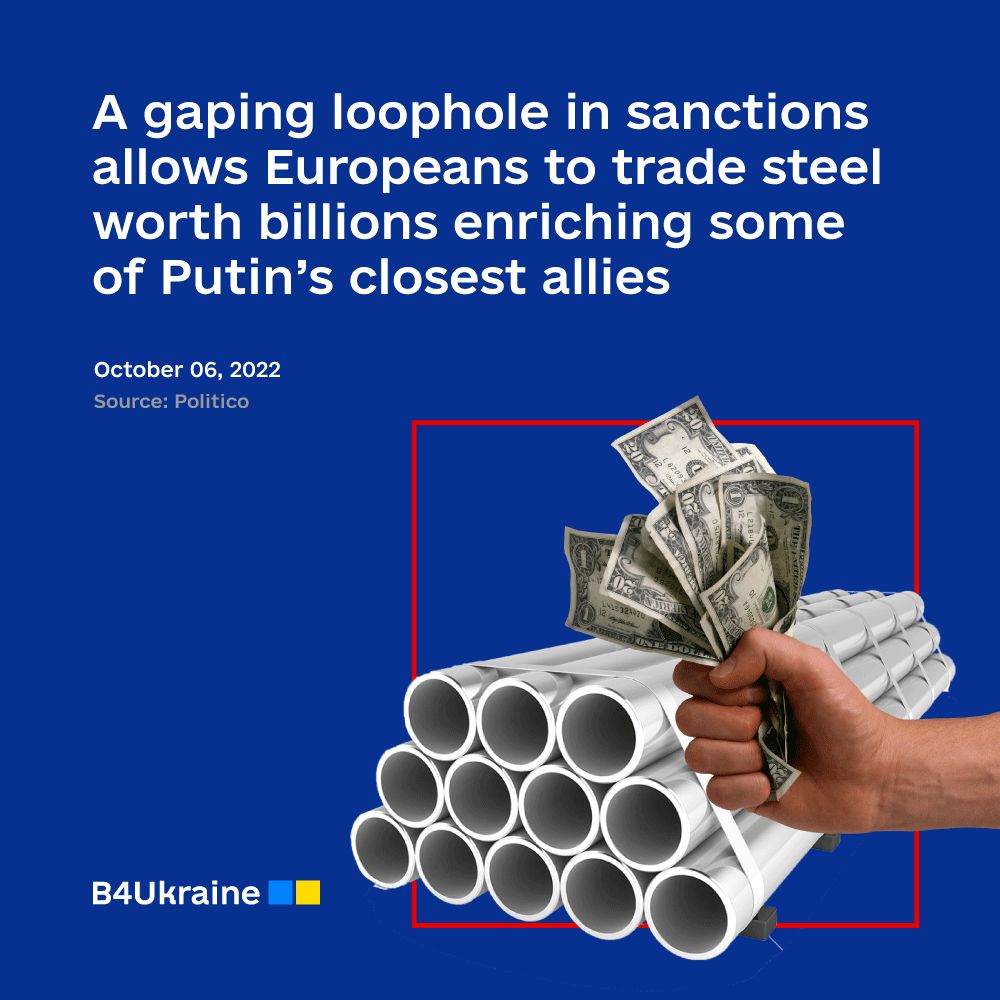 Almost eight months and eight sanction packages since the beginning of Russia's full-scale war in Ukraine, there are still loopholes used by Western companies to buy steel and enrich Russian oligarchs close to Putin. According to Politico, the EU banned Russian finished steel products, but Russian semi-finished steel products, known as "semis," are not on the sanctions list.
As the media explains, a handful of European companies, particularly those in the "re-rolling business," rely heavily on Russian imports. Some Russian plants use this to continue receiving profits and paying taxes from these profits. For example, Novolipetsk Steel, one of Russia's four largest steel companies, continues to operate in Europe via its subsidiary in Belgium. Russian oligarch Vladimir Lisin, the company's owner, is under sanctions in Australia but not in the U.S. or the EU.
Another one is Evraz, which has strategic significance to the Russian government, as it produces 28% of all Russian railway wheels and 97% of rail tracks that move "key military supplies and troops to the frontline in Ukraine," according to UK authorities. And yet, Evraz's subsidiaries throughout Cyprus, Switzerland, the Netherlands, and the Czech Republic, continue to operate, even though the company's spokesperson says it doesn't sell steel to Europe.
The steel market is important for Russia, as it reaches $62 billion, according to Statista. Semi-finished products were the main export commodity of the steel mill industry from Russia in 2021, with an export value of nearly $9.8 billion. Russia ranks fifth by monthly crude steel production, following China, India, Japan, and the United States. Therefore, by allowing loopholes in steel sanctions, democratic countries let Russia receive billions of export revenues, which it can use to continue waging the war on Ukraine. However, Russia ranks only fifth on the list of steel producers. Thus, Russian steel is not irreplaceable and it is possible to wave it 'good-bye'.
The EU companies need to make this decision if they want to bring the prospects of lasting peace closer. Supplementing sanctions with corporate strategies to exit and divest from Russia and Russian commodities is the only way to deprive the Kremlin of financial resources for warfare and contribute to Ukraine's victory through economic and business efforts.