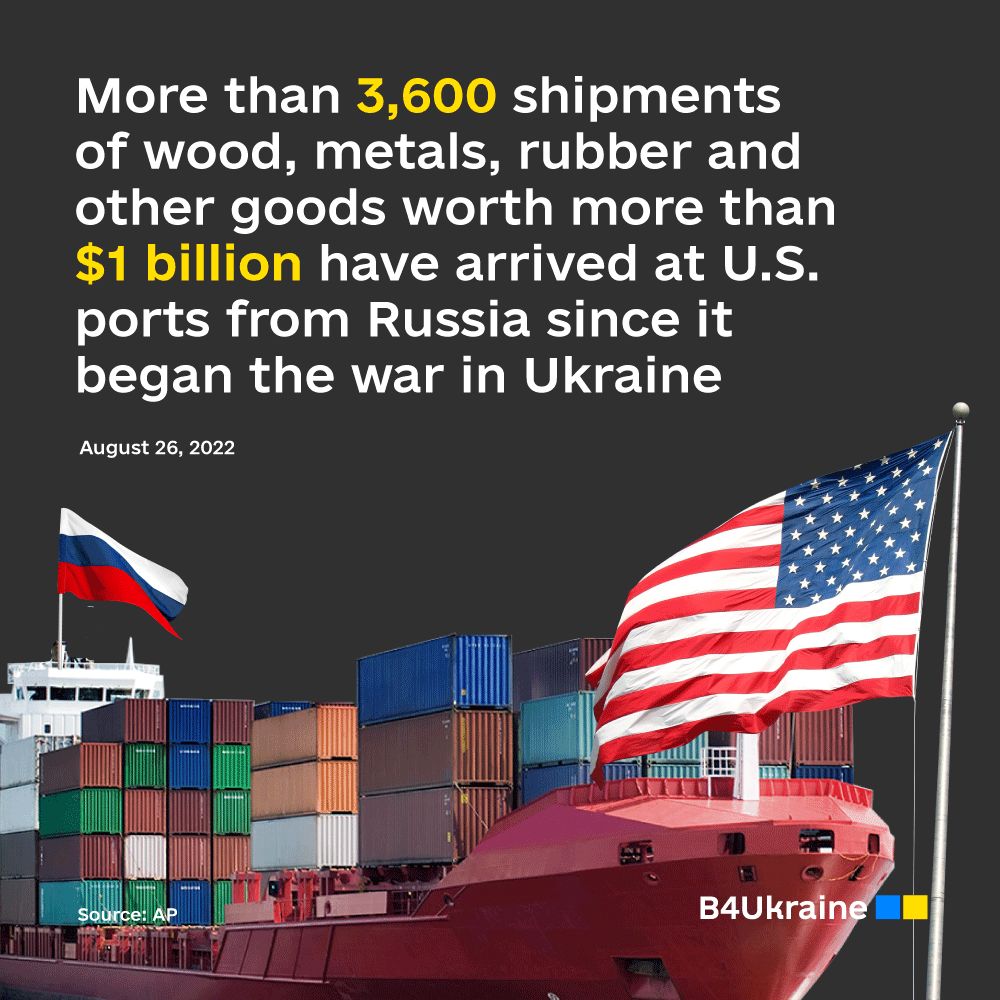 More than 3,600 shipments of wood, metals, rubber, and other goods worth more than $1 billion have arrived at U.S. ports from Russia since it began an unprovoked full-scale war on Ukraine in February 2022, the Associated Press reports. That's a significant drop from the same period in 2021, when about 6,000 shipments arrived, but it still adds up to more than $1 billion worth of commerce a month.
Some of these, like wood, are said to be crucial for the American market with almost no alternatives. Some, even if crucial, still raise questions, like aluminum. Russia currently is the second largest world aluminum exporter, so cutting off imports of the metal from Russia would have an impact on prices in the U.S. However, some of the Russian aluminum suppliers are state-owned companies involved in providing materials for the Russian military. Kamensk-Uralsky Metallurgical Works is one of them, for example.
In March, the U.S. banned exports to Kamensk-Uralsky because it supplies metals to the Russian military but placed no restrictions on imports. According to the AP, U.S. state-owned Boeing bought 20 tons of aluminum in June from Kamensk-Uralsky Metallurgical Works.
Oil and gas shipments from Russia still flow to the United States as well. As the media reports, they continued to arrive in U.S. ports long after the announcement of sanctions due to "wind down" periods, allowing companies to complete existing contracts. Also, some U.S. energy companies continue to import oil from Kazakhstan through Russian ports, even though that oil is sometimes mixed with Russian fuel.
On top of it all, the U.S. imports bullets from Russia. Almost 4,000 tons of Russian bullets have arrived in the U.S. in 2022. Some were sold to American buyers by Russian state-owned companies, while others came from at least one sanctioned oligarch.
The United States is one of the most prominent Ukraine allies in Ukraine's fight for freedom and independence, providing huge support and imposing sanctions on the aggressor country. However, this report highlights that there are still loopholes that allow American companies to trade with Russian state-owned companies which are directly involved in the war. And, therefore, there is a room for expanding and enforcing sanctions.