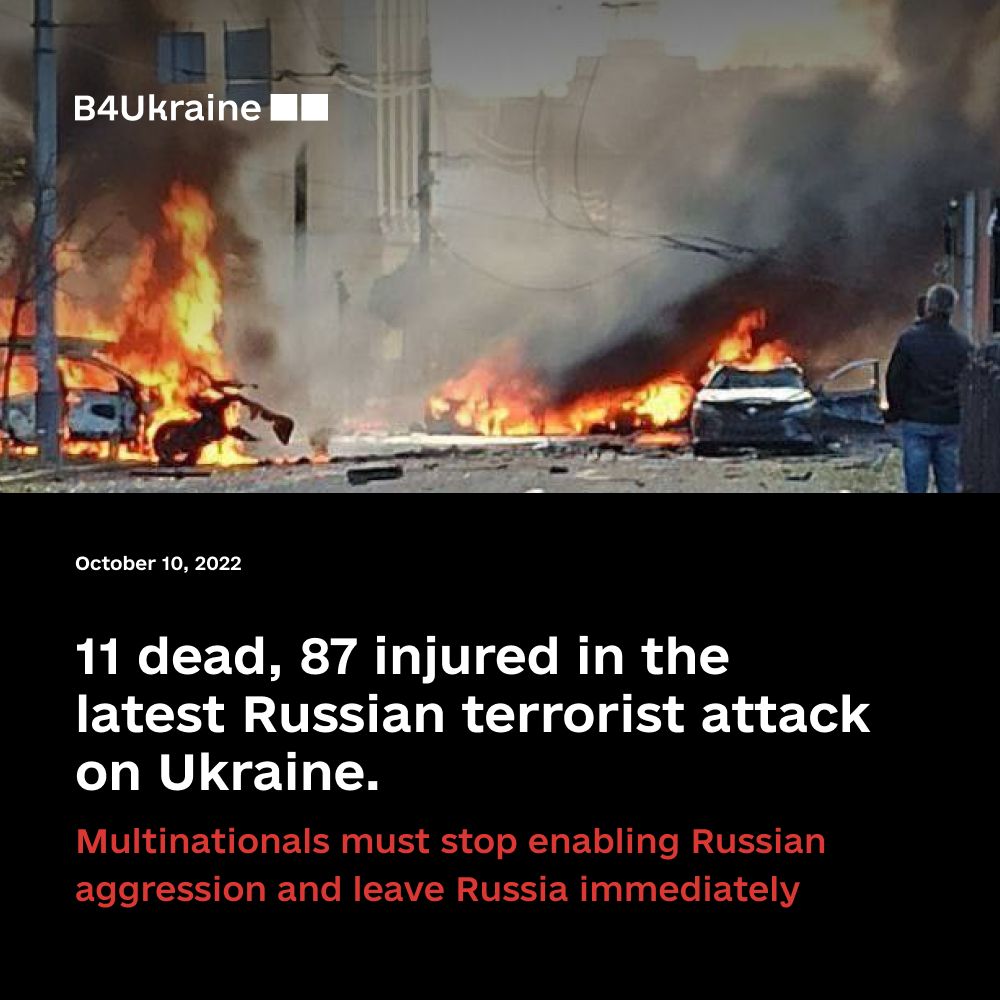 One of the most massive Russian airstrikes on Ukraine since the beginning of full-scale war highlights the urgent need for the multinationals to exit Russia to avoid the risk of complicity in the Kremlin's unlawful attacks and war crimes against Ukrainian civilians.
On October 10, Russia launched 83 missiles and 12 kamikaze drones Shahed-136 in the morning strike, according to the Ministry of Defense of Ukraine. Cities across all of Ukraine, including Kyiv, Zhytomyr, Khmelnytsky, Ternopil, Lviv, Kremenchuk, Kharkiv, Dnipro, Kryvy Rih, Odesa, and many more in the regions were targeted. So far, the confirmed casualties include 11 people dead and 87 injured, but the toll may increase as rescuers and firefighters continue to clear the rubbles.
According to local officials, Russians deliberately targeted civilian infrastructure, mainly thermal power plants. As a result, residents of Kyiv, Lviv, Kharkiv, as well as Sumy, Poltava, Zhytomyr, Zaporizhzhia, and Dnipropetrovsk regions were partially or completely left without electricity and water. Moreover, Russian rockets also hit streets, cars, a playground, museums, and apartment buildings. As Ukrainian police reports, the attack damaged some 70 facilities, including 29 critical infrastructure facilities, 4 apartment buildings, and 35 private residential houses, as well as a school in the capital.
"Russia is making clear that terror attacks on civilians and civilian infrastructure are part and parcel of its official strategy. War crimes are a feature, not a bug. Companies that comply with Russia's mobilization order and support its war with staff and resources will become "industry leaders" in assuming unprecedented levels of legal, reputational, and financial risk. They will soon join the ranks of corporations now infamous for aiding and abetting the war crimes of the world's most notorious regimes. The choice to leave Russia has never been more stark," - stated Richard Stazinski, Co-Founder & Executive Director of the Heartland Initiative and the B4Ukraine Steering Committee member.
Everyone supporting the Kremlin, directly and indirectly, must cease any business and other relations with Russia and Russian entities unless it is willing to share with the Kremlin the responsibility for the brutal attacks on Ukrainian civilians and civil infrastructure.
The B4Ukraine coalition calls on all multinational businesses to leave Russia immediately and stop enabling its terrorist attacks on Ukraine through providing indirect financial support for its war efforts as well as directly assisting the Kremlin with mobilization.
Currently, over 1600 multinationals with $141 billion in local assets continue operating on a full or limited scale in Russia, providing support for the Russian economy and funding the Kremlin's war machine. Annually, they generate at least $171 billion of local revenue. At least 50 international companies with 154 production sites in various regions of Russia are still operating in the country at a full or limited scale.
Manufacturing products, providing services, or importing goods from abroad in Russia, international businesses pay taxes to the Russian budget. Russia is estimated to spend around $1 billion per day on the war against Ukraine, and 43% of Russia's military budget is financed with just corporate tax revenues. So, even if the companies remaining in Russia do not buy new weapons and ammunition, they might still finance the production of 'Tornadoes' or the purchase of Shahed-136 drones used to attack Ukraine today.
Moreover, the multinationals are now obliged to assist the Kremlin with mobilization by conscripting soldiers from among their almost 700 000 employees in Russia. Around 87% of people employed by multinationals in Russia work for companies from 10 countries: the USA, France, Germany, Switzerland, the UK, Japan, Italy, Greece, China, and the Netherlands.
The companies are coming under increasing pressure to act upon these obligations from the government. According to B4Ukraine sources, at least one multinational in Russia is already receiving notifications from commissariats to hand in the summons to their employees, as well as to notify those employees that were relocated to other offices outside of Russia that they must return. Several Russian media, including Commersant and BBC Russia, have also reported the huge involvement of the business employers in the conscription process. This makes the companies directly involved in the unlawful Russian war in Ukraine.
"Russia's attacks on the eve of the heating season are directed at intimidating the civilian population, wreaking havoc and undermining Ukraine's resolve. Companies that continue to operate in Russia and fund this war, as well as equip it with more manpower and infrastructure, are effectively working against the Ukrainian victory. Terrorists and fascists deserve to be prosecuted for their war crimes – not being reasoned with, done business with, or negotiated with. Corporate entities whose taxes and resources contribute to the war are directly complicit in the war crimes against humanity happening in Ukraine today," - said Nataliia Popovych, Founder of One Philosophy and WeAreUkraine.info and the B4Ukraine Steering Committee member.