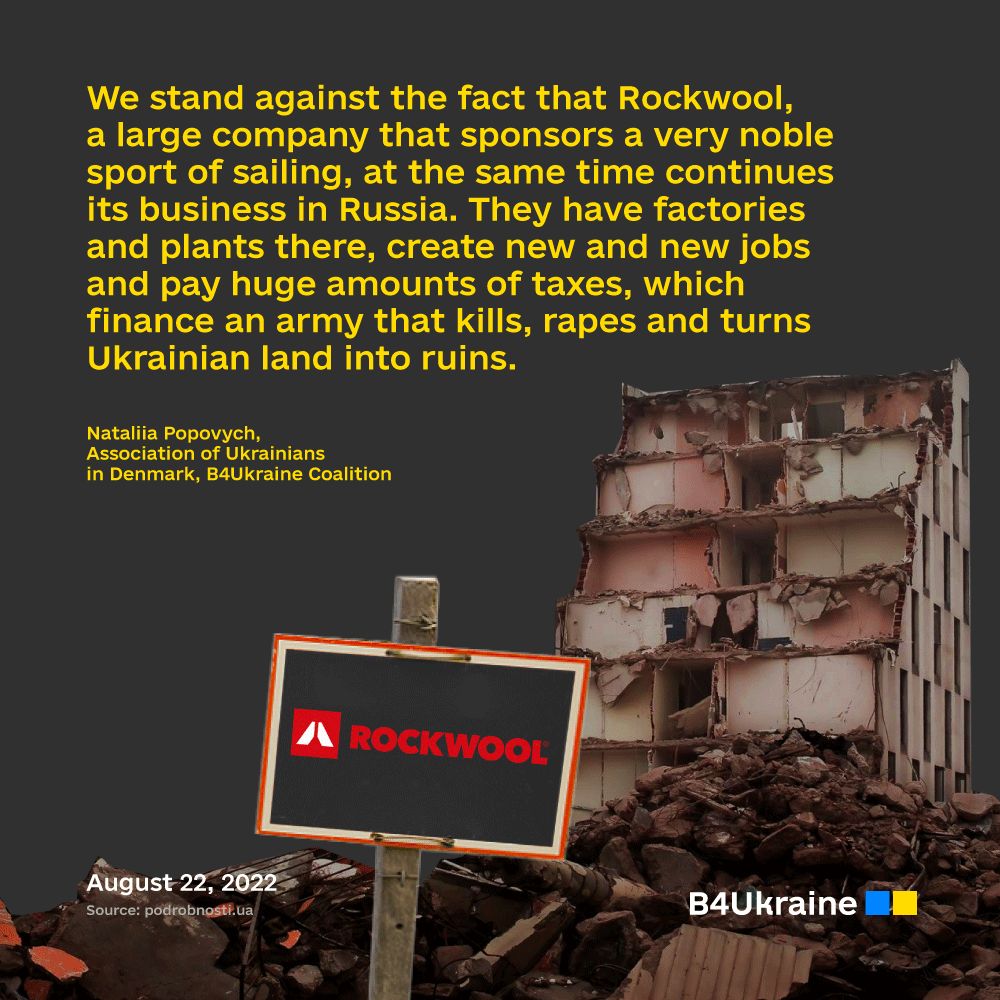 On August 19-20, 2022, Copenhagen hosted the Denmark Sail Grand Prix. The title sponsor of the sail was Danish company Rockwool Group, known for two things: it is one of the world's largest manufacturers of mineral wood products, and it still operates in Russia.
The company has four fully functioning manufacturing facilities in Russia, employing 1200 people. It is the country's second-largest player in the mineral wool insulation market. The company still pays taxes to the Russian budget, the source of money used for continuous warfare.
As highlighted in the open letter to the media leaders, sailing crews, attendees, and organizers of the Denmark Sail Grand Prix from the Association of Ukrainians in Denmark (AUD), "while the entire civilized world is looking for ways to cut Russia's resources for war, Rockwool Denmark has decided to continue supporting Russia's budget."
On March 15, 2022, Rockwool advertised its contribution to making a new hotel in Saint-Petersburg warm and cozy. On this day in the early morning, the capital of Ukraine was bombed. Rockets hit two apartment buildings and one house in Kyiv. Three people died, but rescuers managed to save 46 lives that could have been lost, as blazing fires engulfed those buildings. The residents had to stand outside in a cold and very uncomfortable morning and watch their homes burn down. They were hit by rockets paid from the Russian state budget that Rockwool supports through taxes.
On April 18, 2022, Rockwool announced webinars for Russians to teach them how to make beautiful facades for homes. This very same day, Russia launched four missiles at the beautiful city of Lviv. The attack killed six people and wounded eight more, one of them was a child. These rockets were paid from the Russian state budget that Rockwool supports through taxes.
On May 26, 2022, Rockwool advertised how its product made the Moscow subway warm. On this day, the residents of Kharkiv in Eastern Ukraine were also in the subway, hiding from the heavy shelling of their city. On this day, seven people died in Kharkiv, and 17 more were wounded, including a nine-year-old. These rockets were paid from the Russian state budget that Rockwool supports through taxes.
"Every day, thousands of people in Ukraine and Europe suffer because of this war, fueled by taxpayers' money, while companies like Rockwool continue their business as usual," the AUD wrote.
Hence, the sail was met not only with the cheers of sports fans but also with protests by members of the Association of Ukrainians in Denmark, trying to bring attention to the lack of meaningful actions on behalf of Rockwool.
"We stand against the fact that Rockwool, a large company that sponsors a very noble sport of sailing, at the same time continues its business in Russia. They have factories and plants there, create new and new jobs and pay huge amounts of taxes, which finance an army that kills, rapes, and turns Ukrainian land into ruins", - says Nataliia Popovych, a member of the Association of Ukrainians in Denmark and the Business for Ukraine coalition, founder of One Philosophy and WeAreUkraine.info.
And what exactly does Rockwool get in return for staying in the country? Well, not much. The Russian market right now is tightening under the pressure of sanctions. With the economy slowing down and consumption falling, the impact on the construction industry is inevitable. Even local Russian media report on increasing construction costs and considerable drops in developers' activity, as well as an expected decline in housing demand by 10-20% by the end of 2022. This is a bad sign for any maker of construction materials.
Combined with setbacks in the global economy (also provoked by the Russian war on Ukraine) and growing restrictions on trade with Russia affecting imports of raw materials and spare parts for manufacturers, every other day of continuing operations in Russia might become less lucrative and more costly.
Read the full AUD open letter in English here