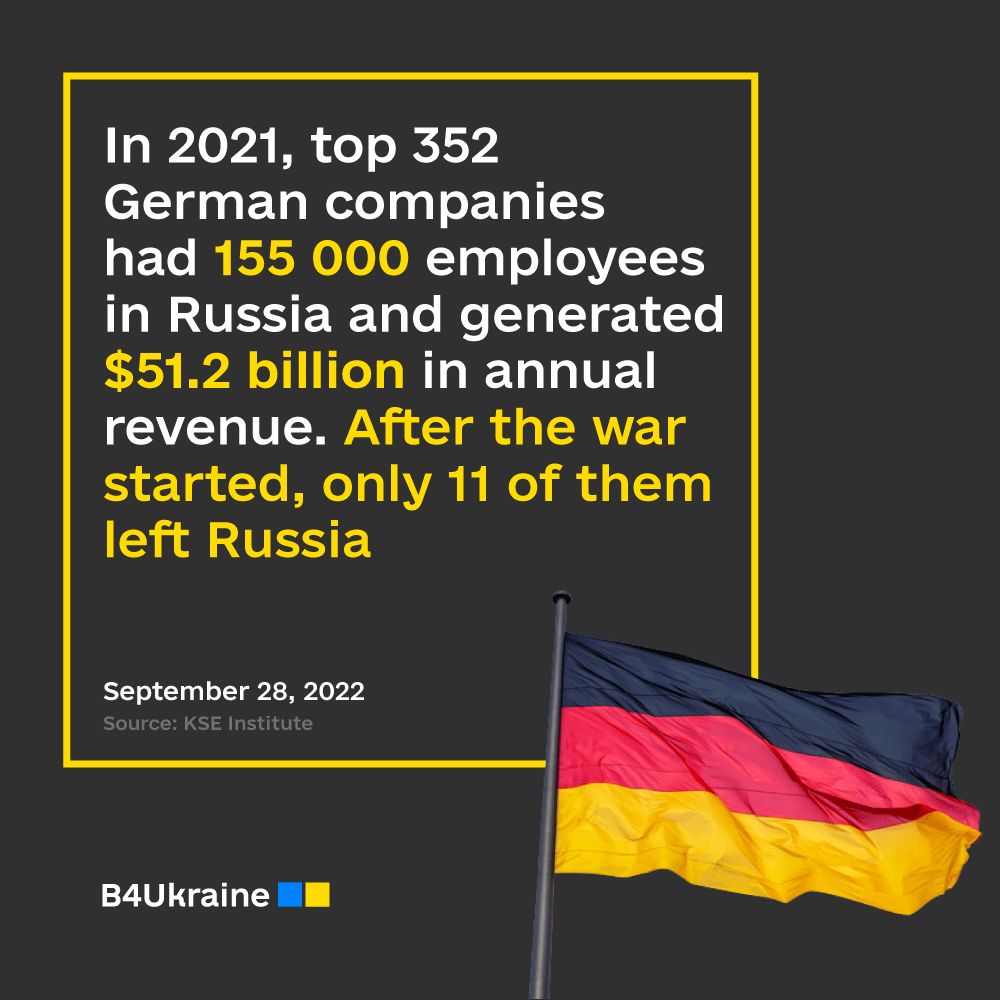 When Russia invaded Ukraine in the early morning of February 24th, the world had changed, and politicians worldwide, each with its own delay, acknowledged that. One of them was German Chancellor Olaf Scholz with his now famous speech about how this was a turning point in international relations.
For decades, Germany have had very tight connections with Russia, mainly embraced by post-WWII ideas that trade could prevent another war. These ties meant deep economic cooperation for both states. According to the KSE Institute data, German companies do far more business in Russia than any other European Union country does, exporting goods worth more than 26 billion euros ($28.4 billion) last year and investing a further €25 billion in operations there.
In 2021, top 352 German companies in Russia generated $51.2 billion in annual revenue and had $23.4 billion in capital and $26.1 billion in assets. German companies are also the third largest employers in the country - in 2021, they provided jobs to 155 000 Russians.
But the turning point in Scholz's speech basically meant acknowledgment that the idea of trade preventing war in Europe was essentially ineffective. This was when sanctions appeared on the table, aiming to cut Russia's ability to finance its destructive war on Ukraine. The world turned to different measures, and Germany turned to different measures. But German companies didn't.
Since Russia's full-scale invasion of Ukraine, some big German names have left the country, which reduced the number of Russian employees by third to some 91 280 people, but that hasn't changed the overall significant role of German companies in the Russian economy. Since February 24th to this day, only 11 German companies have completely exited Russia, including Wella, Tchibo, Schmitz Cargobull, Phoenix Contact and some others.
At the same time, some companies dig in an aggressive state to remain for good. Among the, for example, is Riol Chemie GmbH, distributor of chemicals, reagents, and deactivation agents, and Continental, an automotive parts manufacturing company specializing in brake systems. Initially, the latter paused production but later resumed it, justifying the move by care for the employees, who supposedly faced risks of criminal liability if manufacturing was not resumed.
Continental is not alone on the list of German companies to continue to operate production sites there. At least four other German companies still have plants in Russia: DMK Group (2 plants), Hochland (3 plants), Liebherr (2 plants), WIKA (1 plant).
Having such a significant impact, German companies have been indirectly involved in Russia's war on Ukraine by paying taxes to the Russian budget, salaries to the Russian employees and supporting the Russian economy and, therefore, Russia's warfare capabilities. Moreover, due to the launch of war mobilization in Russia in the end of September, all of these companies are now also directly involved in the Kremlin's warfare efforts as Russian legislation obliges them to assist with conscripting soldiers and equipping the army.
How a company chooses to meet its obligations to protect and respect rights in Ukraine will define its reputation far beyond Russia for years to come.
It's time for German businesses to see that the risk of complicity in Russia's war crimes in Ukraine is now very real and share the attitude of their national government to these events as a turning point in relations with Russia and Russian entities. How the companies choose to respond to the abuse of human rights in Ukraine in the light of Russia's war mobilization will define their reputation far beyond Russia for years to come.