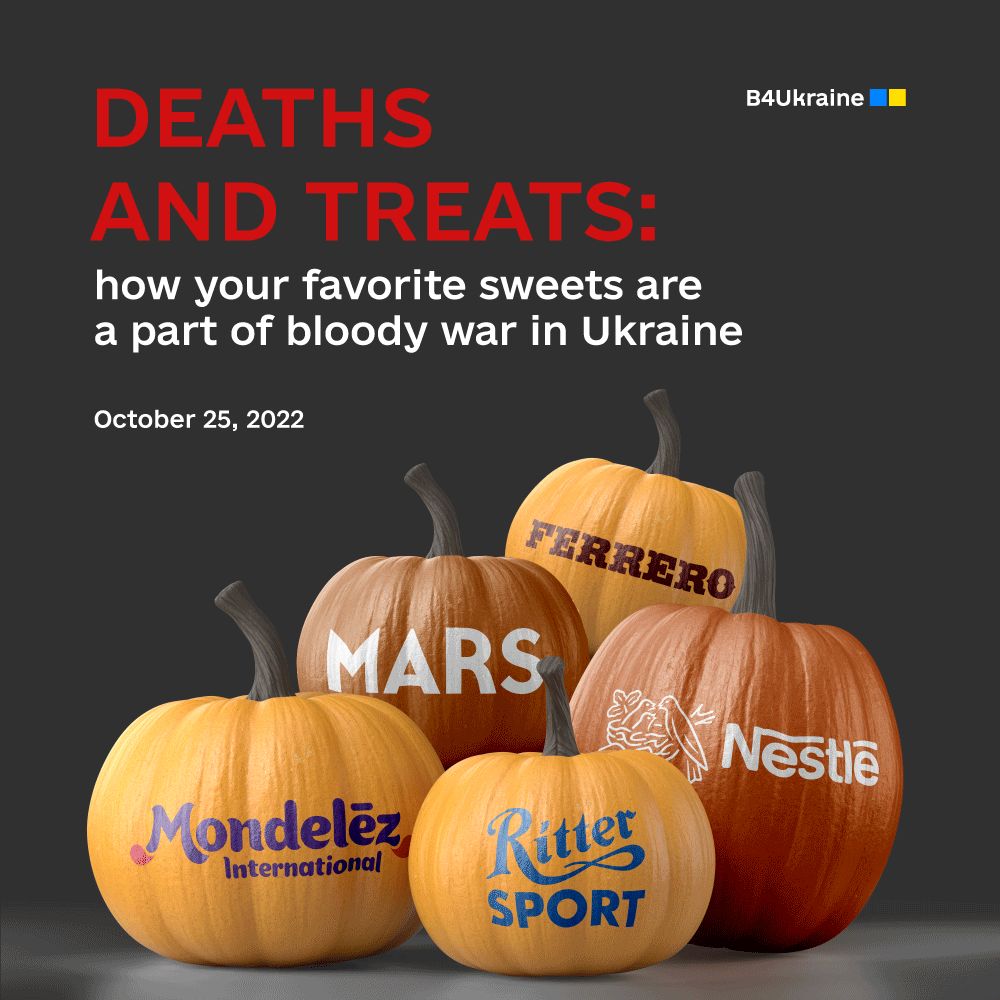 This week marks eight months of Russia's full-scale war against Ukraine. Also, it is the start of the Halloween season, famous for its spooky traditions and billions of profits for confectionery manufacturers. In a week, in many Western countries, children will wear creepy costumes and will go trick-or-treating from door to door. Days before that, their parents will flood supermarkets looking for holiday treats. According to the US National Retail Federation, only in the United States, this year's Halloween spending will reach a record high of $10.6 billion. Seven out of every ten consumers plan to hand out candy to kids. But this year, they have to be conscious not only of the nutrients of the rich in sugar sweets but also of their origin.
Although some 1,140 multinational companies have left Russia or at least committed to doing so, over 1,600 companies, including some big sweet makers, still do business in the country today. So far, the multinationals operating in Russia have indirectly been involved in the Kremlin's devastating war on Ukraine – by paying taxes to the Russian state and supporting the Russian economy. But now, they are also directly involved in Putin's warfare by participating in conscripting soldiers for the Russian army, as Russian law requires them to do after the announcement of mobilization.
A rare adult would want to give their hard earn bucks to the companies that tolerate and support real-life horrors of war. And a rare conscious parent would want to feed a child with candies and chocolates associated with deaths and atrocities, even on Halloween.
So, what are the brands you wouldn't want to treat a child with?
Mondelēz, one of the world's largest sweets and snack manufacturers with almost $27 billion in global net revenues, has been operating in Russia since 1994 and is one of the country's top 50 largest foreign companies, according to Forbes Russia. The US company has three factories in the country. The Bolshevik factory produces Yubileinoye and Oreo cookies, Barni Bear biscuits, and TUC crackers. The factory in Pokrov produces Alpen Gold, Vozdushny, Milka chocolate, and a Picnic bar. The factory in Veliky Novgorod produces Dirol chewing gum and Halls lollipops.
Despite the destructive and devastating war Russia wages in Ukraine, Mondelēz continues to produce and sell treats in the aggressor country. Mondelēz's annual revenue in Russia last year reached $1,373 million, slightly less than 5% of the company's global revenue. Mondelēz paid about $170 million in taxes in the Russian Federation, according to the KSE Institute. With that amount of money, the Kremlin could have obtained 26 Kalibr cruise missiles that have been used to terrorize Ukrainian civilians. Also, the company employs 3,000 people in the country. Under the ongoing mobilization and with the help of their employer, these people can now also become tools of murder.
Even though the risk of complicity in the war is as high for multinationals as ever, the company still sees no reason to exit. It explains its presence in Russia by the excuse of providing essential food to the Russians. However, neither gum nor biscuits, cookies nor chocolates can be considered essential for maintaining life and health. "If the situation gets worse, we might have to take other decisions," said Mondelēz International CEO Dirk Van de Put recently, as if the mobilization of the company's employees to kill and destroy in Ukraine isn't bad enough.
Halloween plays an important role in the financial well-being of Mondelēz International. According to the Convenience Store media, the company's sales of Halloween portfolio grew ahead of the market last year with a 42% year-on-year increase. The season's #1 best-selling product was the Cadbury Treatsize bag. For Halloween 2022, the company unveiled some seasonal Oreo and Cadbury treats.
Mars, another world's leading confectionery company with over $20 billion in global net sales, has been working in Russia for the past 30 years. It employs almost 6,000 people in the country. When the full-scale invasion started, the US company announced it would scale back its Russian business. Being also a producer of pet care products and affordable meals, it promised to refocus on the essential role of feeding the Russian people and pets.
But is that really the case? If you visit the website of Russian local food supermarket Utkonos, you will see not only pet food but also M&M's, Bounty bars, Twix, Snickers, and other "non-essential" brands. Moreover, according to one of the most popular recruiting websites in Russia, HeadHunter.ru, the company that claimed to be scaling back activities in Russia is actively hiring new people. Currently, there are 58 open vacancies in Mars Russia and one more even in Crimea, a Ukrainian region illegally occupied by Russia since 2014.
For this year's Halloween, Mars prepared a special edition of M&M's, Twix, and Snickers. The special edition probably won't reach Russia as the country does not celebrate Halloween, but ordinary editions of the said brands evidently will.
According to Statista, the Swiss company Nestlé S.A., with net sales of over $93 billion, is the world's largest fast-moving consumer goods company. Almost half of its revenue comes from the American market.
Nestlé has worked in Russia for 150 years. It has seven factories in the country and employs 8,000 people. After Russia launched its full-scale invasion of Ukraine, Nestlé promised to focus on providing essential food, such as infant food and medical/hospital nutrition. Moreover, the company announced suspending renowned Nestlé brands such as KitKat and Nesquik, among others, as well as halting non-essential imports and exports into and out of Russia, stopping all advertising, and suspending all capital investment in the country.
However, according to HeadHunter.ru, Nestlé Russia is actively hiring in the country. Currently, it is looking for 165 new employees, including two marketing specialists, even though the company claims to have stopped advertising activities.
Also, some Nestlé brands, such as KitKat and Nesquik, are still available in some Russian supermarkets, i.e., Spar and Azbuka vkusa, indicating that this is yet another company that is not delivering on its promises.
Meanwhile, in Western countries, the company has prepared a wide range of Halloween-themed products, expecting a hike in sales on Halloween.
Ferrero is one of the world's largest chocolate makers, selling products in 170 countries. Last year the Italian company's net sales reached $13.6 billion.
The company entered the Russian market in 1995. It has a factory in the Vladimir region, having almost 85% of its production needs covered by local Russian suppliers. When the launch of the full-scale invasion of Ukraine, Ferrero announced it would be downscaling all non-essential operations, such as advertisement and promotions. However, the Russian factory keeps working, as usual, the company continues hiring people in Russia, and shops in Russia still sell Ferrero products.
As usual, Ferrero came up with seasonal treats, in particular, the 31 Days of Halloween Countdown Calendar. According to Jim Klein, CEO of Ferrero USA, the company is looking forward to "bringing happiness to consumers of all ages and helping them create wonderful memories with our beloved family of treats." Apparently, to everyone except Ukrainians, who continue to suffer at the hands of Russians and their aggression supported by many multinationals remaining in Russia, including Ferrero.
Ritter Sport is not the largest, but one of the most iconic chocolate makers, famous for its square chocolate plates. According to The Times, the German company generates almost €500 million in turnover annually. Around 7% of its turnover comes from the Russian market.
Ritter Sport does not have a production in Russia but continues to sell products in Russia. When the Kremlin launched a full-scale war against Ukraine, the company stopped investments and advertising in Russia but publicly committed to not leaving the country.
Instead of market diversification, the company chose to donate its Russian profits to humanitarian aid organizations. The hypocrisy of the approach is about enabling deaths with one hand and trying to console the victims with another hand.
While the above-mentioned large and famous confectionery brands continue operating in Russia, getting increasingly involved in the Kremlin's war efforts, some brands have already pulled out from Russia or never entered the market in the first place.
In August, Swiss chocolate maker Lindt & Sprüngli Group Lindt announced that it "has made the difficult decision to exit the Russian market."
Others that have severed ties with Russia include Scotland-based manufacturers Walker's Shortbread, a biscuit and cookie maker, and Tunnock's, famous for its cakes and caramel.
American giant chocolate bars maker Hershey's wasn't present in Russia even before the invasion.
For every less ethical candy maker, there is always a conscious manufacturer with brands to indulge in on your own or share with the trick-or-treater during the holiday season.