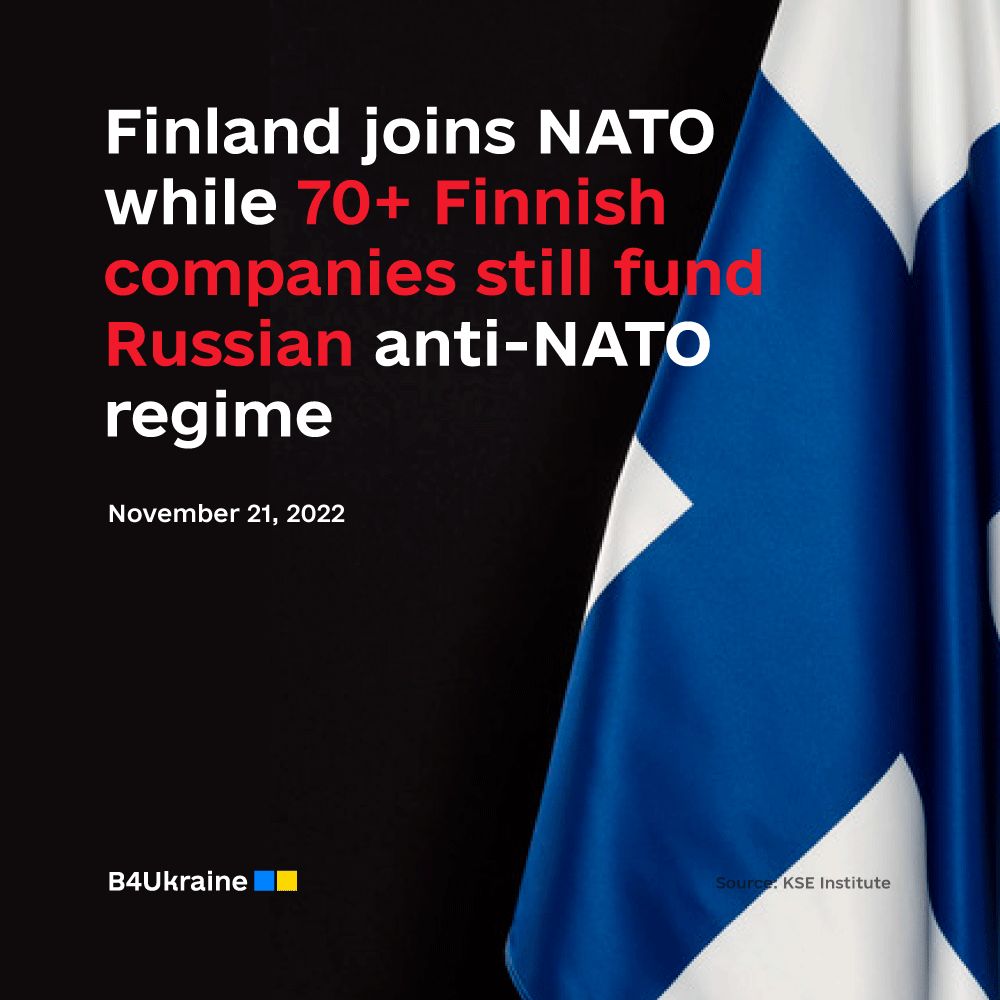 The Finns remember well what Russian aggression is, so when the invasion of Ukraine began, they offered Ukrainians a friendly shoulder. The combined value of only defense aid packages submitted by Finland to Ukraine is now over €160 million. However, more than 70 Finnish companies are still indirectly subsidizing Moscow's war effort by paying taxes in Russia, according to B4Ukraine and KSE Institute.
In 2021, Finnish companies provided jobs for 21,800 people, those companies generated $6.7 bn in annual revenue, paid $467 mn of taxes, and had $5.2 bn in capital and $5.5 bn in assets, revealed the report.
Overall, nearly 1,600 international companies are still operating in Russia, generating at least $171 billion of local revenue annually, approximately 10% of Russia's GDP. They pay enough taxes to fund 50% of Russia's military budget.
Yet, more than 70 Finnish businesses are still reluctant to fully exit the Russian market. Effectively, they enhance Russia's ability to wage war and fund the Russian anti-NATO regime at a time when Finland is joining NATO. It is worth mentioning that on November 21, the NATO Parliamentary Assembly designated the Russian Federation and its regime as terrorist.
Finnish remainers include state-owned energy company Fortum, and data system and software developer Cinia.
At the same time, Teknos, Boreo, Wartsila, Fiskars, Atria, Fazer, Paulig, Stora Enso, Accountor, Sokotel, Tietoevry, and Raisio are the 12 Finnish corporations that made a clean break from Russia.
The B4Ukraine coalition calls on Finnish businesses that still work in Russia to take a closer look at the example of the 12 departed companies and stop creating added value and jobs on the territory of a country, which has already begun to be recognized in the world as terrorist. End all operations and business relationships in Russia or risk being complicit in its crimes.