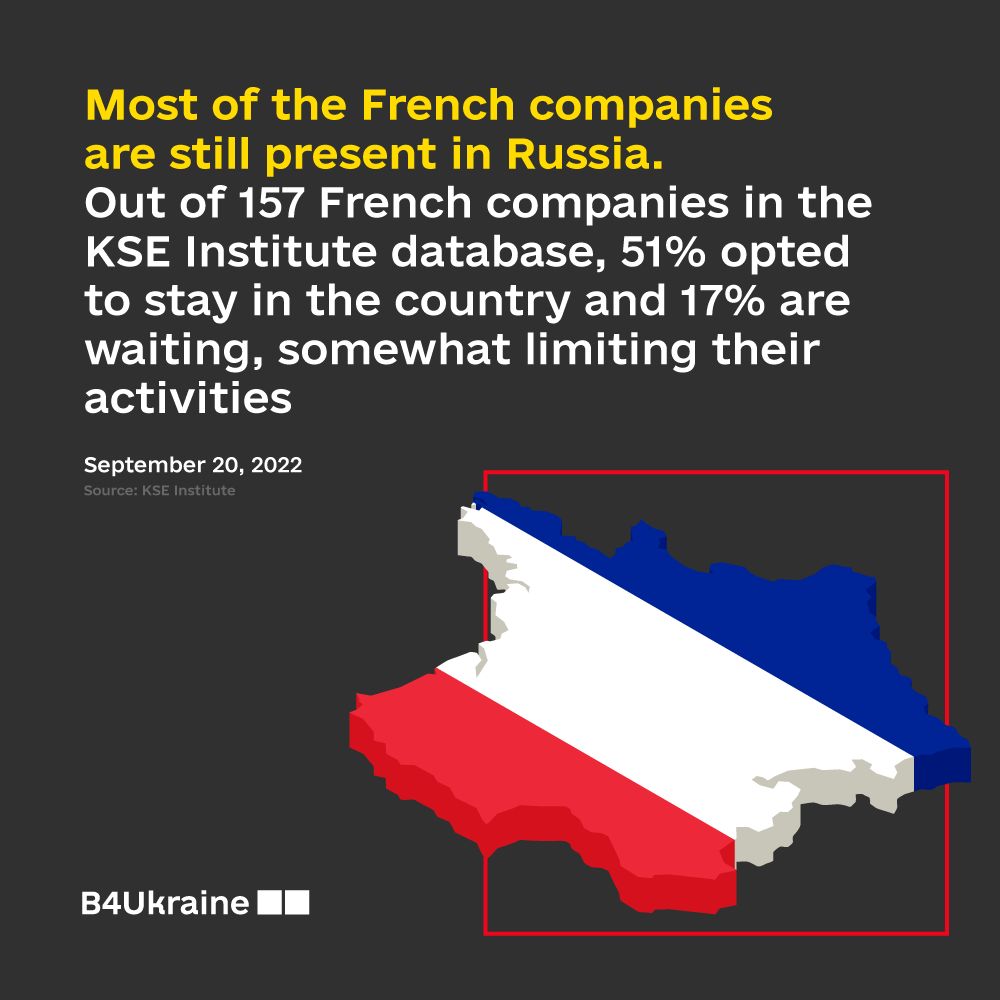 Almost seven months into the Russian war against Ukraine, France continues to be one of the leading foreign employers in Russia, second only to the USA. According to the KSE Institute every second French company that was doing business with Russia at the beginning of the war continues its operations in the country to this day, even though Russia has already committed over 30 000 war crimes and killed at least 300 Ukrainian children. Of 157 French companies, only 5% left entirely, like Societe Generale or Renault, but retailers like Auchan and Leroy Merlin, FMCG producers like Danone, Bonduelle or Lactalis, cosmetics brands like Yves Roche and L'orealstill provide Russia with economic and financial means to wage war.
Estimates of France's contribution to the Russian war economy vary. For example, the French Ministère de l'Economie et des Finances reported 700 French subsidiaries in Russia, employing over 200,000 staff. The 2021 report on Franco-Russian economic relations published by the French Direction générale du Trésor shows 160,000 Russians employed by 500 French companies.
And according to the KSE Institute's recent report, last year 157 TOP French companies provided jobs for more than 245,000 Russians and generated $26 billion in annual revenue. The existing reported range between 160 000 and 245 000 people is a vast number of people, making France one of the leading foreign employers in Russia, second only to the USA.
The number of Russians French companies employed in Russia is comparable to the population of Dijon (close to 160 000) or Bordeaux with 250 000 citizens. It is in fact equal to 2,5 populations of Berdyansk, a Ukrainian city - twin to La Seyne-sur-Mer, and currently occupied by the Russian armed forces, but known for the fiercest resistance movement to the occupation.
So while the Ukrainian resistance fighters contribute to the Ukrainian victory and liberating of the temporarily occupied cities like Berdyansk, French companies continue to pay taxes to the Russian budget for their hundreds of thousands of payrolled employees. Over 40% of the Russian budget, which is now being used as a source of means for continuous warfare, is covered by corporate taxes paid from revenues and salaries, making French companies indirectly involved in financing the war in Ukraine.
After more than half a year of the war, disruption of the global rules-based order, more than 30 000 war crimes committed by the Russian army, more than 300 children killed, and vast devastation and destruction brought to Ukrainian cities and villages, there is no excuse good enough to justify companies remaining in Russia. Especially on such a large scale as in the case of the French companies.
B4Ukraine coalition calls for the French brands to put humanitarian values before profit and leave Russia. Businesses must fully exit Russia, relocate production sites from the country, stop paying payroll and corporate taxes, and stop trade with Russia altogether to deprive its war machine of economic and financial resources until the territorial integrity of Ukraine is restored and accountability is imposed for war crimes and the destruction of Ukrainian infrastructure and property.