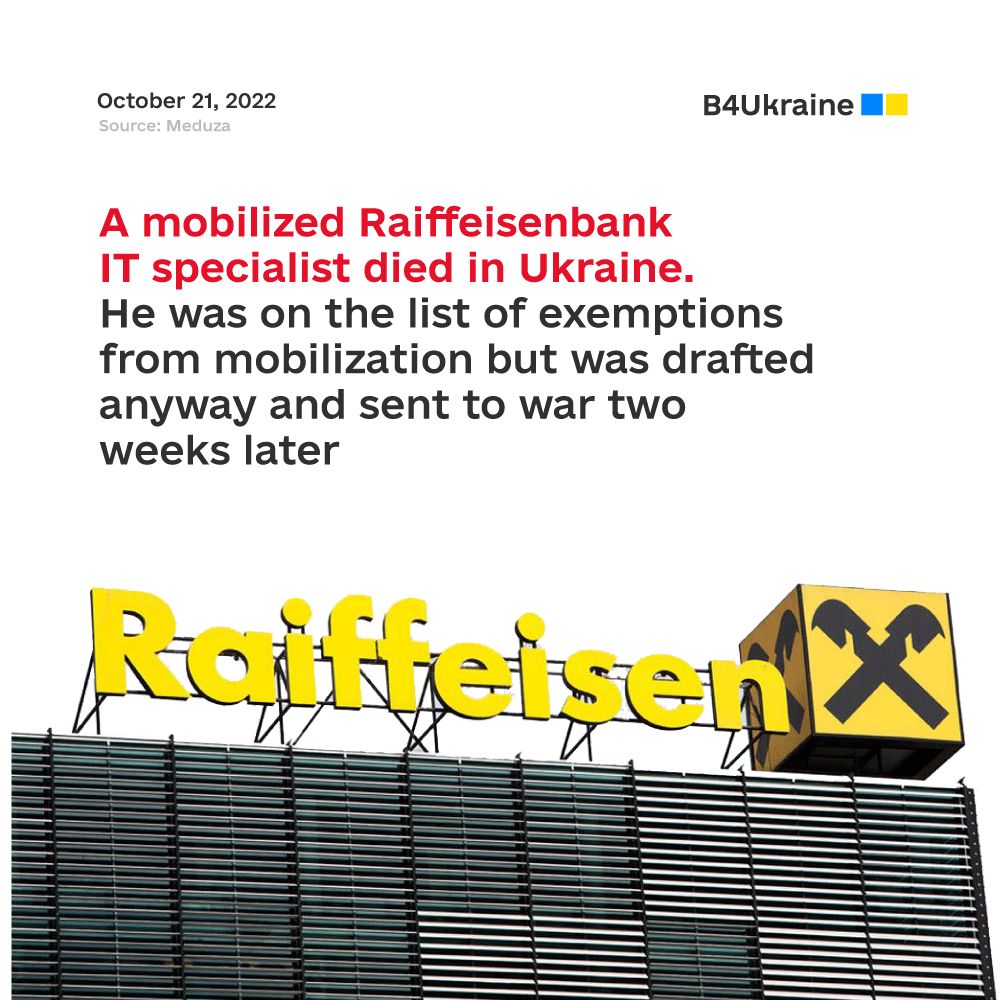 Timur Izmailov, a former IT specialist for Raiffeisenbank, was conscripted despite the Russian authorities promising draft deferments for the bank's IT employees and was killed by mortar fire in Ukraine, reports Russian media Meduza. This is the first documented case of a multinational's employee eligible for deferments drafted by Russian authorities and killed in Russia's ongoing war against Ukraine.
Izmailov, who worked with Russia's Mir payment system, was 33 years old when he died. According to his lawyer, as an IT worker at a systemically important bank, Izmailov was entitled to a draft deferment. He and his lawyer filed more than seven complaints and a lawsuit. Nevertheless, Izmailov was conscripted on September 23, sent into combat on October 7, and killed on October 13.
Raiffeisenbank is one of the largest supporters of the Russian economy among foreign banks, as it has an exposure of $25 billion. Yet, the bank has made no efforts to leave Russia. Like other foreign financial institutions operating in Russia, for almost eight months, Raiffeisenbank has been indirectly involved in the war by paying taxes to the Russian state and supporting the Russian economy. But now, the Kremlin's mobilization has made it directly involved in the war efforts.
After Putin launched the partial mobilization on September 21, the Business & Human Rights Resource Centre (BHRRC) asked 99 multinationals working in Russia about their response to the obligation to assist in the Kremlin's conscription of soldiers among their employees. Like many others, Raiffeisenbank, which employs over 9,000 people in Russia, reported that it had submitted its employees for the exemption to the Russian central bank. Izmailov's death proves that it didn't help. The Russian central bank sent a list of people who should receive deferments to the military's General Staff on September 28. However, the military commissariat still hasn't received it, according to multiple reports in Russian media.
Izmailov's story proves that for multinationals remaining in Russia, there is simply no legal and ethical way to avoid being involved in Putin's war on Ukraine. Their last resort was to put employees on deferments, but this has turned out futile.
The B4Ukraine coalition is urging multinationals to leave Russia immediately to avoid becoming responsible for the deaths of both Ukrainians and the companies' Russian employees and directly complicit in Russia's devastating war, war crimes, and atrocities in Ukraine.