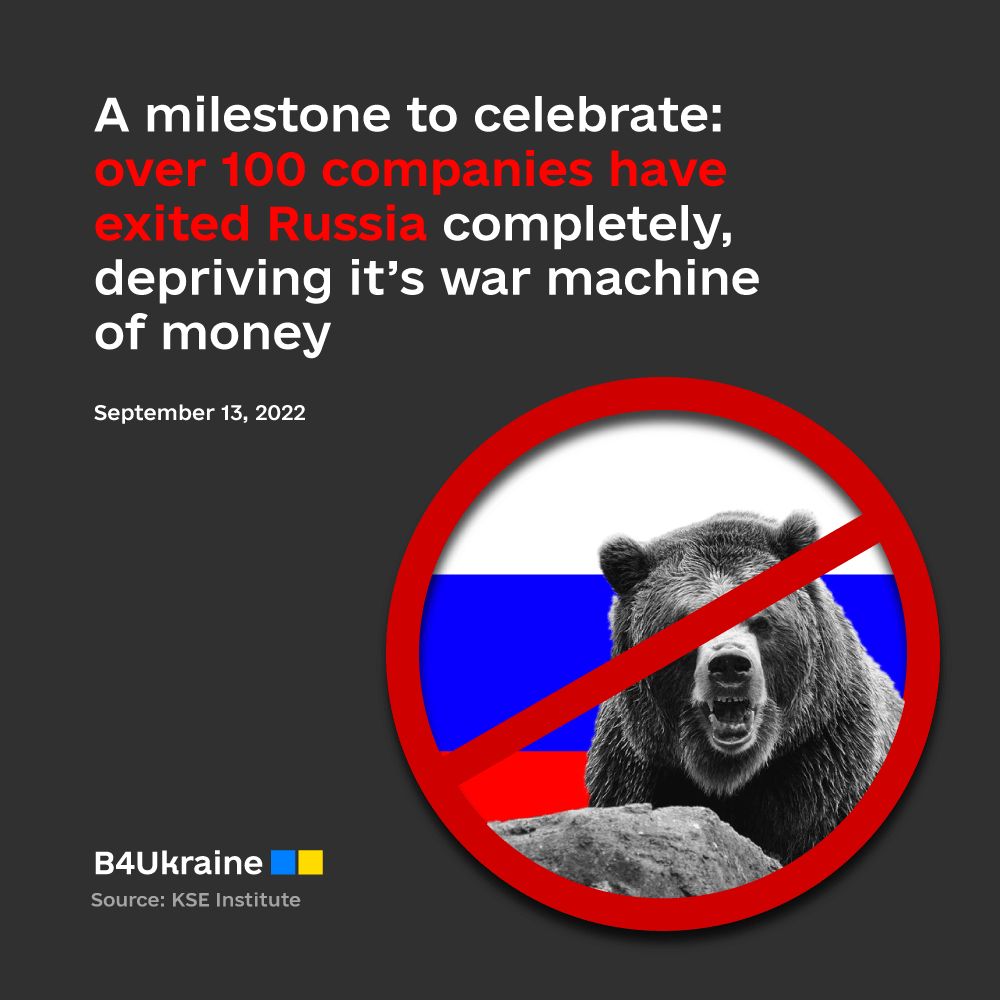 More than 200 days into the war in Ukraine, there is still plenty of companies that work in Russia. Due to the lack of transparency on the company's behalf, it is often difficult to clearly understand whether they are curtailing operations, digging in, or making it seem like they have withdrawn from the market but in fact are still present.
But this time a milestone was established, as KSE Institute has confirmed 105 cases of complete corporate exit from Russia. The total revenue of these companies in the Russian Federation is more than $24 billion. In particular, this is 22 US companies, 13 companies from UK, 11 from Finland, 10 from Germany, 8 from France, 6 from Switzerland, 5 from the Netherlands, 4 from Denmark etc.
The breakdown by industries shows that most of the withdrawals were in consulting (11 companies), automotive (9 companies), food & beverages (9 companies), consumer goods (8 companies), and chemical industries (7 companies).
Some of the exited businesses are quite famous: McDonald's, Ogilvy & Mather, Imperial Brands, Renault, PwC, McKinsey, KPMG, EY, Deloitte, Accenture, Marks & Spencer, Schneider Electric, Koch Industries, AB Electrolux, Sony Music Group, Societe Generale, Marriott, Starbucks.
So does this make a difference? On the one hand, the revenue of the companies that left Russia is only 8% of the total revenue of international companies from the KSE Institute database, that worked in Russia in 2021.
On the other hand, it is almost $10 billion more than the worth of the Russian military equipment, destroyed in the first six months of the war, which is $16,5 billion, according to Forbes. Also, the exiting of huge multinational brands like McDonald's and Starbucks was a big symbolic loss. The news about McDonald's withdrawal marked the end of an era the same way as 32 years ago its arrival in Russia marked the upcoming collapse of the Soviet Union.
In a way, the exodus of these 105 companies managed to deal a blow to the aggressor state. But this is only the beginning of the long way. It is estimated that Russia spends $1 billion a day on this war. This is why the B4Ukraine coalition continues to call for companies to exit Russia immediately and ensure their revenues do not continue to underwrite the war and enable gross human rights abuses.