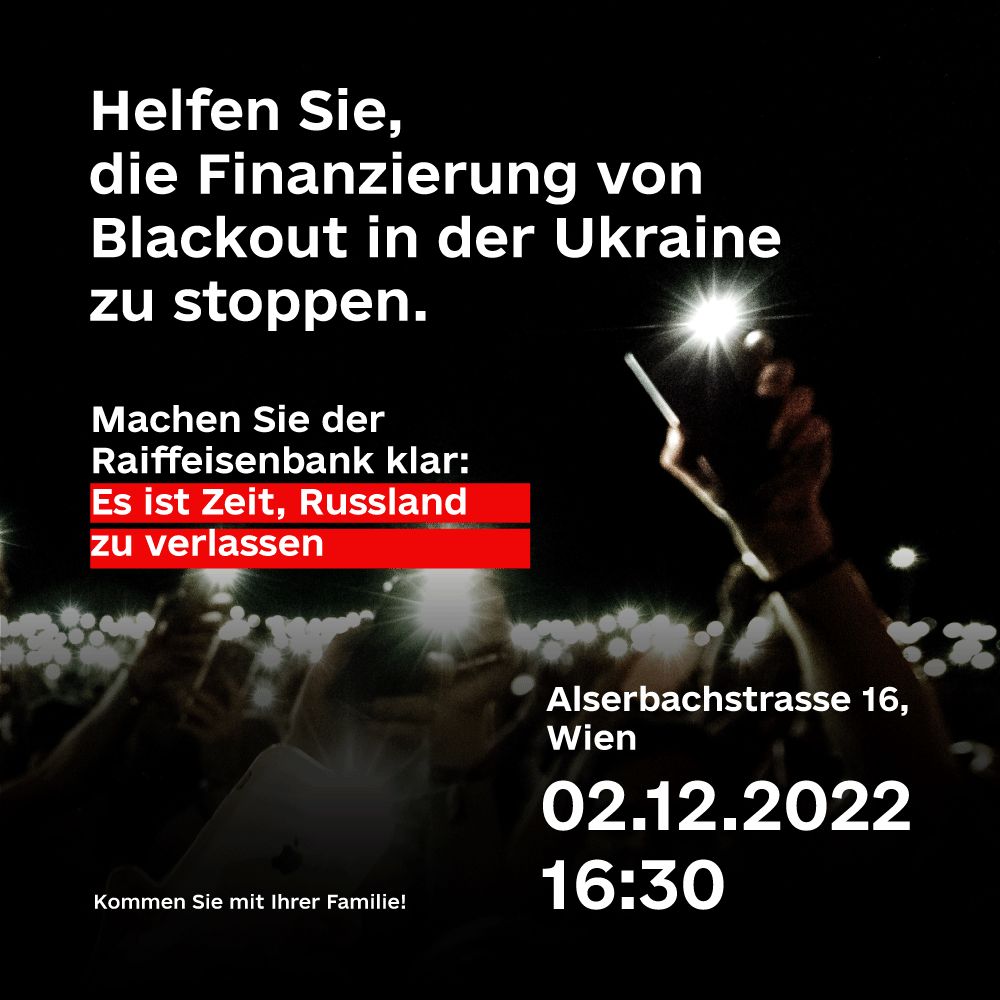 Vienna-based NGO "Mrija" and the international coalition B4Ukraine call on all supporters of Ukraine to join the rally in Vienna on December 2 to protest against Raiffeisen Bank International's continued operations in Russia.
The rally is scheduled to begin at 4:30 p.m. on Friday, December 2, at Alserbachstrasse 16, Vienna, next to the Alserbach Palace where Raiffeisen Bank top brass will gather for a holiday party.
RBI is one of the largest foreign banks that keeps defending its right to earn billions in Russia. The bank employs over 9,000 staff in Russia. In the first nine months of 2022, RBI earned half its net profit from the Russian market. This year, the bank made €1.4 billion in profit in Russia, four times more than in the same period last year.
These earnings suggest that RBI still pays significant amounts in taxes to the Russian state, thus indirectly contributing to funding for the war against Ukraine. Given that most international banks have announced moves to pull out of Russia, RBI's presence mitigates the impact of international sanctions against the country. It has been reported that RBI's Russian employees have been conscripted to fight against Ukraine.
The B4Ukraine coalition appealed to the RBI management to discuss the company's current activities, its business relations in Russia and the associated risks for the people of Ukraine and the company but has not received a response.
Mrija and B4Ukraine are asking all Ukrainians and friends of Ukraine in Vienna to join the rally and call on RBI to stop indirectly funding Russia's war against Ukraine. To illustrate the conditions in which millions of Ukrainians are forced to live since Russia demolished a large part of Ukraine's power grid, participants are invited to wear warm clothing and bring torchlights or headlamps.
For media inquiries contact us at contact@b4ukraine.org or yarynak@outlook.com / +380 67 216 3083