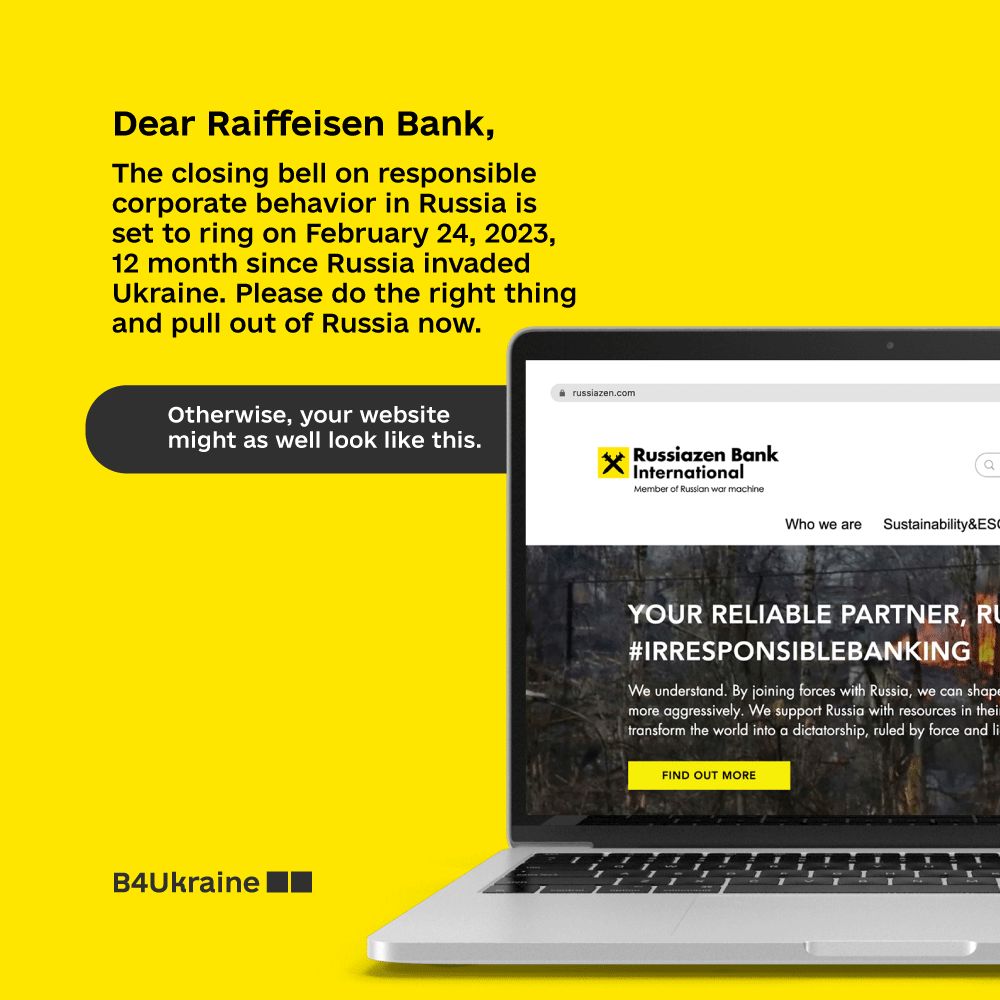 B4Ukraine calls on the Board of Raiffeisen Bank International AG to make an immediate commitment to close down its business in Russia, an internationally recognized state sponsor of terrorism.
Austria's Raiffeisen Bank International (RBI) is one of the largest foreign banks remaining in Russia, employing some 9,000 staff in-country. In the first nine months of 2022, RBI earned half its net profit from the Russian market. This year, it made €1.4 billion in profit in Russia — four times more than in the same period last year. These earnings suggest that RBI still pays significant amounts in taxes to the Russian state, contributing funding for Russia's devastating war, war crimes, and atrocities in Ukraine. At the same time, the company is continuing its relationship with state-owned and sanctioned Sberbank. What's more, a Russian RBI employee was killed after being drafted to fight against Ukraine. These facts make clear that it is no longer possible for RBI to protect its employees in Russia, and the risk of complicity in Moscow's war crimes is higher than ever before.
RBI is a signatory of the UN Global Compact and thereby commits to ensuring it is not complicit in human rights abuses. RBI also pledges to comply with international standards in relation to human rights as stated in the Bank's Code of Conduct. However, regarding Russia's unprovoked and unjustified war in Ukraine, it appears RBI will be challenged to meet its commitment to respect both human rights and Russian law.
By requiring support for the illegal invasion and occupation of Ukraine, President Putin's mobilization decree makes it nearly impossible for companies to reconcile their obligations under international law with the requirements of Russian law.
This legislation entails new and significant legal risks for companies remaining in Russia, including potential civil and criminal liability under comprehensive sanctions regimes and recent international jurisprudence holding corporations and their officers responsible for human rights abuses abroad. Companies may be exposed to financially material risks through operational restrictions, such as limitations of future government contracts.
It has become clear that RBI cannot avoid involvement in conscription, even by attempting to exempt employees. According to Reuters, the bank's Russian employee was killed after being drafted to fight against Ukraine, despite the bank writing to the draft office seeking an exemption. A 33-year-old IT specialist made his way from his cubicle to his death at the frontline of an unprovoked war against a neighboring democratic state in a mere three weeks.
Raiffeisen in Russia declined to comment and neither its head office in Austria nor the Russian Defence Ministry immediately responded to Reuters inquiries. B4Ukraine also wrote to Raiffeisen to request a meeting but has not received any response.
Not only do we express our concern about the tragic loss of life, but also about the fact that this could have been avoided if the company had opted to leave Russia in the past months.
Another surreal case to digest: we understand from media reports that on November 14, the occupiers looted the local branch of Raiffeisen Bank in Chaplynka, Kherson region of Ukraine.
How do Raiffeisen staff in other countries feel knowing this is happening to their colleagues? How does a client somewhere in Vienna feel knowing that the employees of his bank are going somewhere to kill Ukrainians?
In March RBI Chief Executive Office Johann Strobl stated that RBI was "assessing all strategic options for the future of Raiffeisenbank Russia, up to and including a carefully managed exit from Raiffeisenbank in Russia." Yet, nine months into the war, there is still no sign of a firm decision from the company when it comes to leaving the country.
We seek to understand how RBI has conducted and continues to conduct heightened human rights due diligence, per its stated policy and the UNGPs concerning due diligence in conflict-affected areas, and how the findings of such a process have resulted in these continued business activities and relationships.
In addition, RBI is continuing its relationship with state-owned and sanctioned Sberbank, in particular, having replaced JP Morgan as custodian for its depositary receipts. The group also maintains significant investments in Russia's oil and gas industry, indirectly boosting Russia's ability to finance its war efforts.
We will take further decisive actions to block Russia's access to economic and financial resources enabling its unjust aggression. Foreign companies must end all operations and business relationships with the Russian government or face the risk of being complicit in its crimes.
Take action!
If you're a Raiffeisen Bank customer, please email your concerns to customer@rbinternational.com or contact your manager
If you are a Raiffeisen Bank investor and you are concerned about the advisability of relying on Russia for 50% of the bank's profits, please contact ir@rbinternational.com
If you're a concerned citizen, please email communications@rbinternational.com or tag Raiffeisen Bank International on Twitter, Facebook, or LinkedIn.